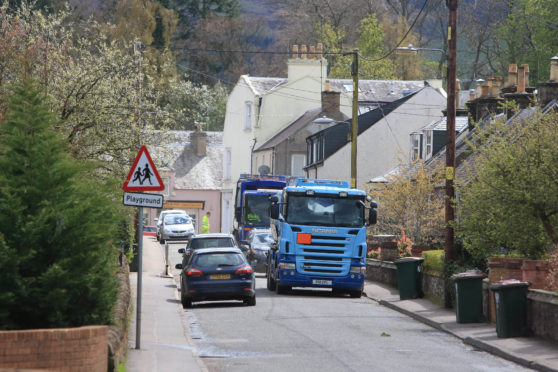 The next phase of a massive housing development in Auchterarder has been tipped for approval, despite residents saying the town is already "bulging at the seams".
Developer Stewart Milne Homes is already building 260 houses off Hunter Street and has planning permission for 135 more.
But following an application to tweak the site layout for the second phase and reduce the number to 116, Auchterarder residents have launched a fresh attack on the plans.
They say the narrow streets of the Lang Toon, particularly the High Street and Hunter Street, cannot cope with the additional traffic.
Objectors have called on the developer to open its construction traffic "spine road" to the public but stressed this will not be enough to alleviate the problem.
One complainer, Robert Meiklejohn, said: "The transport planning for the expansion of Auchterarder has clearly been a failure.
"A one-street town can't handle all this development without a bypass road allowing alternative travel from east to west. The High Street can't cope with an added 100 extra cars doing the school drop-off and chaos will follow.
"Children are already in danger at various points due to the congestion and lack of appropriate crossing points.
"The new road needs to be opened immediately, although sadly this will not alleviate the congestion on the high street as everyone will still need to drive up to the only supermarket."
The planning application attracted seven similar complaints, including from Auchterarder and District Community Council, which echoed calls to open the new road to public traffic.
Another objector, Steven Myles, said: "The town is bulging at the seams in terms of general infrastructure.
"Existing car parking is sparse as it is but if you add another 116 or potentially more cars that just fuels the problem with the promise of further development to come.
"I feel the charm of Auchterarder is being diluted every time a further development takes place, potentially turning it in to just another commuter town that lies empty most days of the week while residents travel elsewhere for work."
Despite the concerns, the plans have been recommended for approval by Perth and Kinross Council's planning and development management committee next Wednesday, on the condition that the spine road is opened to the public by the end of October.
A report by development quality manager Anne Condliffe said: "The layout and associated scale of the proposed development raises no concerns in terms of landscape fit or in relation to the site landscape capacity.
"It integrates well within its wider context, including the provision of pedestrian and cycle links utilising historic and established routes.
"It is recommended to condition the terms to minimise traffic impact and ensure the spine road is opened to public traffic as a through route at the earliest practical opportunity.
"Overall it is considered competent and compliant with the key principles of the local development plan and is recommended for approval. There are no material considerations which would warrant a refusal of the proposal."