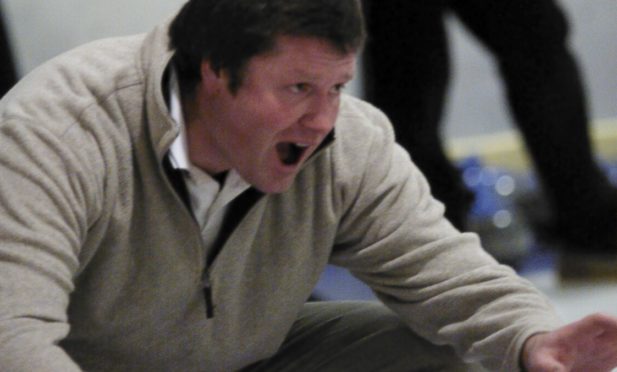 A new award has been created to honour a well-known Perth curler, who died suddenly last year.
Graham Shaw was a stalwart of the Mercure Perth Masters, which has been running for more than 40 years and attracts stars from all over the world.
Mr Shaw and his team competed in the triple knockout event in multiple years.
In April, the 54-year-old died in an industrial accident near Coupar Angus.
Organisers said his tragic death had left a "large gaping hole" in the Perth Masters tournament.
A curling award has been announced to help keep Mr Shaw's memory alive.
Scottish champion Ewan MacDonald was the first to be presented with the memorial glass trophy.
Chairman Pete Loudon said: "The committee, who knew Graham well, decided that the hole created by his absence needed to be filled and something done so that he will always be remembered as part of the Perth Masters.
"So was born the Graham Shaw Spirit of Curling Award – an award to recognise an athlete at this event as someone, who like Graham, embodies the true spirit of friendship and brotherhood that is promoted throughout the world and makes our sport stand out from others."
Mr Loudon said: "This would be a trophy that the voted-for curler would get to keep as a lasting symbol of a great curler and the embodiment of the spirit of curling, as well as having a permanent larger version of the trophy to be kept at Graham's home rink of Perth."
He added: "This year, it was decided unanimously that Ewan MacDonald should receive this award both for his attitude on and off the ice, and as someone who has had a close relationship with Graham."
The award was announced at a dinner to celebrate another successful Perth Masters, in the city's Mercure Hotel.
"It was a very emotional moment and everyone in attendance could not help be moved by the occasion," said Mr Loudon.
He thanked Mr Shaw's widow Kay, mother Christine and brother Calum for helping set up the award. "Hopefully the pain of his loss will lessen, but the fond memories remain," he said.
Mr Shaw died in an accident involving a forklift at Peattie Farm.
The National Farmers' Union Scotland (NFUS) said: ''Deaths like this bring a catalogue of heartbreak and misery to Scottish families.''