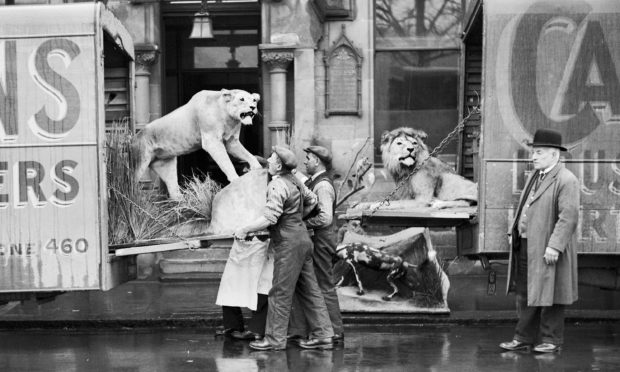 For workmen who were more used to delivering furniture or hoisting pianos up flights of stairs, shifting truckloads of lions into Perth's newest visitor attraction was an unusual assignment.
The bizarre spectacle from the early 1930s, part of preparations for the opening of the city's Museum and Art Gallery on George Street, was captured for prosperity by a local photographer.
And his eye-catching image now forms part of a nostalgia-filled exhibition, celebrating the rich history of the Fair City's cultural assets, including Perth City Hall.
Local firm Camerons House Furnishers and Removals was commission to move stuffed animals, and other exhibits, from the old Perthshire Natural History Museum on Tay Street.
It heralded the start of a new cultural renaissance for the city. Huge crowds gathered for the launch of the new museum in 1934, when the Duke of York  congratulated Perth on "this welcome piece of slum clearance."
The new exhibition at the George Street gallery has been put together by Culture Perth and Kinross (CPK) to mark a bold new chapter for the city.
Tayside Healthcare Arts Trust (THAT) has been working with museum staff on the project. The group, supported by novelist Zoe Venditozzi, accessed archived photographs and artefacts, which helped stimulate memories and discussion for people with a variety of long-term conditions.
With work poised to begin on a long-awaited transformation of the city hall, CPK asked locals for their own memorabilia to put on show.
The display marks key moments in the venue's history, including Margaret Thatcher's speech in 1987, as well as Arthur Scargill's appearance at a conference for miners in 1983.
Retired photographer Louis Flood said the two gatherings, at different ends of the political spectrum, were among his strongest memories of the old city hall.
"I remember listening for a pin to drop while Thatcher and Scargill held the floor," he said.
Before its closure in 2005, the venue also played host to acts as diverse as Sandie Shaw, Morrissey, The Who and Nazareth.
Also on display is a set of silver keys that were stolen during an after dark raid on the museum in 1964. The intruders made their way up a 50ft drainpipe and removed a skylight to get inside.
The keys had been presented to Queen Victoria during her first state visit to the city in September 1842.
The exhibition also tells the story of Perth's old Sandeman Library and the Fergusson Gallery.
Curator of the Collective Memories display, Paul Adair said: "The museum and archives have some fascinating photographs, plans and documents relating to Perth City Hall and its predecessor on the same site."
The exhibition runs until early March.