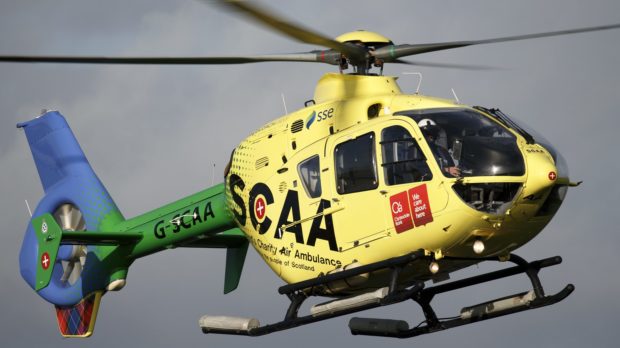 Scotland's Charity Air Ambulance (SCAA) spent the equivalent of one hour every day last year flying to and from emergencies.
Figures released by the Perth-based organisation show its flying hours totalled 365 in 2018, and that crews went to the rescue in 325 life threatening incidents.
SCAA, which flies out of Perth Airport, Scone, also airlifted a total of 174 patients who were in need of hospital care last year.
Its medics dealt with incidents in every corner of Scotland, with the exception of Orkney and Shetland.
The group is currently raising funds for a second helicopter, which will be based in the north-east.
The majority of emergencies attended by the charity's distinctive yellow, blue and green air ambulance were in Tayside (28%) and Highland (34%).
Ninewells Hospital in Dundee and the Queen Elizabeth University Hospital in Glasgow topped the table for the number of visits by the SCAA team last year – each receiving patients from 26% of all emergency responses.
The statistics also reveal that of the 260 rapid air responses made by the service last year, 105 were to serious trauma emergencies. Fifty-five of these involved road accidents.
A total of eight emergencies responded to by SCAA involved infants, with a further 13 involving children under the age of 12.
Eighteen per cent of call-outs involved cardiac-related illnesses and a further 12% involved a stroke.
The 2018 mission log shows the busiest months were July and August, while Saturdays and Mondays saw a greater demand for the service than through the week.
SCAA currently operates one helicopter, an EC135-T2i, and one rapid response vehicle. However, it has launched a fundraising drive to raise the £6 million needed to buy a second helicopter, which will be stationed at Aberdeen.
SCAA chief executive David Craig reflected on the value of the charity air ambulance to Scotland.
"During 2018 we have airlifted more patients than ever to definitive hospital care  — flying further and for longer than ever before," he said.
"In many cases the speed of a helicopter and highly skilled crew can make a life-changing – or even life-saving – difference to patients.
"There is no doubt that SCAA continues to prove a vital nationwide asset in terms of pre-hospital care and, with the continued generous support of the public, we can maintain that life-saving role into the future."