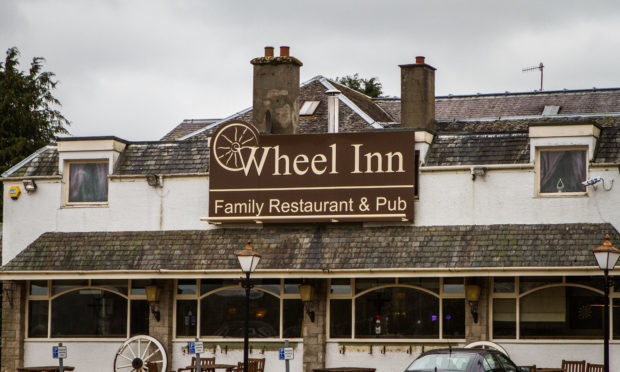 According to legend, at the stroke of midnight on Christmas Eve animals are given the power of speech.
I'm sure I'm not the only one who has put this to the test. Glass of wine in hand, I braced myself to hear some great proclamations from the family cat.
The meaning of life, perhaps? Some eye-opening insight into the relationship between humankind and animals?
To be honest, I would have settled for: "Can you stop using that supermarket own-brand stuff in my litter tray."
Instead, Ramona stared at me for a bit, yawned, stretched out both front paws and curled up back to sleep.
A bit of an anti-climax, then. But still, an altogether better and more comprehensive response than when we tried to find out what was going on with the Wheel Inn at Scone.
The sorry saga of the once-thriving Perthshire establishment limped towards its inevitable conclusion last week.
The pub/restaurant had been left in darkness after Hogmanay, sparking rumours that it had closed down with the loss of several jobs.
But apart from those directly affected, no one knew what was happening. No signs on the door, no messages of social media, no press releases, nothing.
The Wheel Inn hit the headlines last year when Stuart Shearer took charge, just weeks after he suddenly shut up shop at the Lovat Hotel with the loss of about 50 jobs.
We tried to contact Mr Shearer by phone, but we had the same luck as all those couples who tried to call him about their disrupted wedding plans after the Lovat closed.
I even tried to speak to him in the street, but it turned out to be his doppelganger who shook his head and told me: "You've got the wrong man."
It's a shame, because I'm not convinced Mr Shearer was entirely at fault here and it would have been good to hear his side of the story. It was no secret that things had gone downhill at the Wheel Inn – partly because a lot of people were boycotting it as a direct response to Mr Shearer's appointment – but we'd also heard that he was effectively forced out, because of lack of support from his bosses.
The Wheel Inn was run by Mr Shearer for management firm Three Thistles and owners Caledonian Heritable.
Neither of them would comment either.
Does this solve the mystery of why a controversial character like Mr Shearer was put in charge in the first place, a move which baffled trade unions at the time?
Did the owners deliberately try to run down the establishment, as some have suggested, so it would be easier to sell off to housing developers? Were they inspired by Mel Brooks' The Producers?
I'd love to say we have the power to tell you but sadly, we can only speculate.