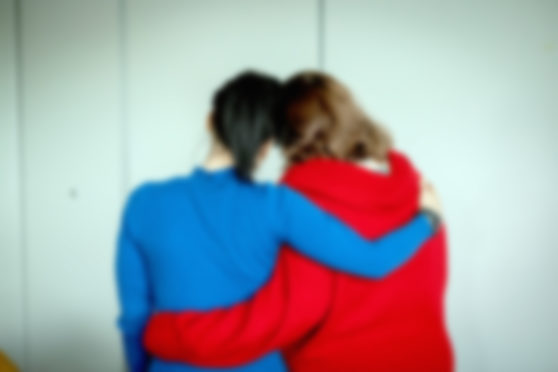 A domestic abuse survivor has spoken out about her traumatic experiences, crediting Perthshire Women's Aid with saving her life.
The mum of five was forced to flee to Perth from elsewhere in Scotland, to escape her violent ex-partner after a nine-year relationship.
Claire (not her real name) had left her abuser years five before and was expecting a baby with a new partner when her ex attacked her, killing her unborn child.
It was the third miscarriage at the hands of her abuser and Claire contacted Perthshire Women's Aid, who quickly arranged emergency accommodation for her and her daughters.
"I have lost three babies to domestic abuse, the last one was when I was fourteen weeks pregnant," she said.
"That's when I came to Women's Aid, it destroyed me that he was still able to cause devastation like that five years after we split up.
"I got off the train with only what we could carry and they looked after me from then on, it was amazing.
"If I had stayed there he would have killed me. I did believe, and sometimes still do believe, that he will kill me."
The charity has warned its lifeline services are at risk this year as crucial funding is coming to an end.
Outreach services for victims in rural areas are currently paid for through a Big Lottery Fund grant, which is due to end in June.
If a replacement cash source cannot be found, the charity, which helped 428 women and 124 children last year, will lose out on £130,000 per year. As well as the outreach service, Women's Aid has five refuge homes across the region, provided by Perth and Kinross Council.
The local authority provides an additional £120,000 but staff fear this may also be cut.
Councillors recently came under fire when The Courier revealed the grant is less than half of that given by neighbouring Dundee Council to its Women's Aid branch and just one tenth of the £1.2 million contribution from Fife Council.
Now Claire and her children are living happily in Perthshire and she credits the counselling and support groups offered by Women's Aid for helping them rebuild their lives.
She called for the charity to be given more public sector support, saying it acts as a lifeline for women fleeing abuse.
"Women's Aid has been so important for me and my girls in making all of us realise that none of this was our fault, the only person to blame is our abuser," she said.
"It is an amazing organisation which has literally saved our lives. I can't even begin to put into words the admiration I have for the staff and I'm eternally grateful for what they have done for me and my children. It's like another emergency service."
Perthshire Women's Aid can be contacted on 01738 639043 or out of hours on 0800 027 1234.