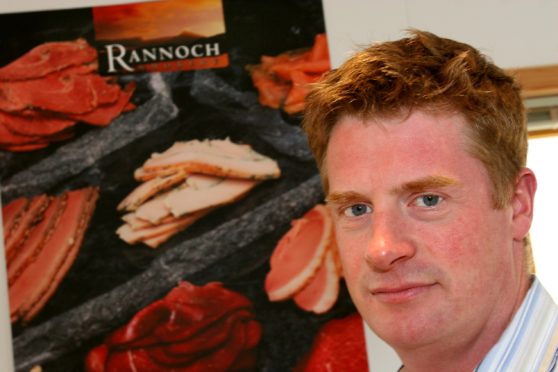 A famous Perthshire food firm is closing its doors after more than three decades in business.
The Rannoch Smokery, which counted TV chef Nick Nairn, Luciano Pavarotti and department store Harrods among its customers, has blamed years of difficult trading and increasing supplier costs.
Bosses say they battled to safeguard jobs, but were left with no choice but to shut up shop for the last time on Wednesday, January 16.
It is understood between 15 and 20 staff have been made redundant.
Richard Barclay took the reins from his father Leo, who started the firm in the 1980s.
In a statement issued by the company, he said: "It is with great sadness that after 32 years, Rannoch Smokery will close as of January 16.
"Trading has been difficult for a number of years, during which time we have subsidised the business to ensure employment in Rannoch."
The statement continued: "However, in the current economic climate with increasing supplier costs and decreasing revenue streams, we have no alternative but to cease trading.
"Many thanks to all the hard work from our employees over the years and the support from the community."
The company began life after a spell of bad weather prevented Leo Barclay from getting his deer cull to market.
Undeterred, he brined the meat in a bath tub at home before slowly smoking it in a home-made smoker in the back garden. The result was the first Rannoch Smoked Venison, which went on to become one of the company's biggest selling products.
The family firm suffered a major setback in 1993, when its original premises was destroyed in a fire.
The Rannoch Smokery rose from the ashes and returned with a new, expanded base on the edge of the village.
As well as its famous venison, other popular products included smoked duck and chicken.
Leading names such as Harrods, Selfridges and Gleneagles sold the company's goods, which were also used by Nick Nairn.
The Smokery even supplied much-loved opera star Luciano Pavarotti at a Three Tenors concert.
Local MP Pete Wishart said the closure was a big loss for the local industry.
"I am deeply saddened to hear that the Rannoch Smokery have announced that they are to close," he said. "The business, led by the Barclay family, have built up an amazing reputation as a high quality Scottish food producer and they really put the local area on the map.
"I know that customers will be truly saddened to see the business cease trading and I wish the Barclay family all the best for the future. If anyone affected by the closure requires assistance, I am more than happy to do what I can to help."
Local SNP councillor Mike Williamson added: "This is devastating news, particularly for the community of Kinloch Rannoch which already has a very fragile economy. This will be a big loss.
"I am hoping that more can be done to save the jobs and soften the blow to the area."