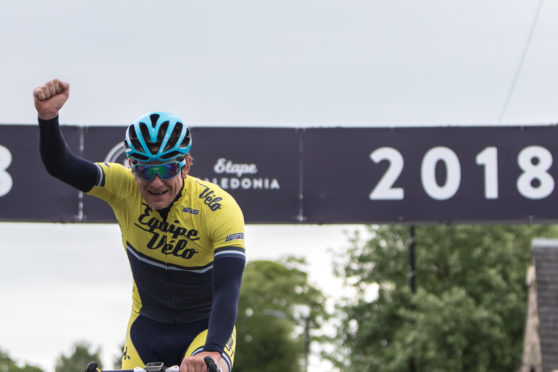 Perthshire's premier cycling event, Etape Caledonia, is back for 2019. Gayle Ritchie chats to last year's fastest rider and finds out why YOU should sign up now!
Thighs will burn, sweat will run, teeth will clench and the odd expletive may escape – Etape Caledonia is definitely not for the faint-hearted.
Encompassing the beauty of Loch Tummel and Loch Rannoch before approaching the famous climb of Schiehallion, the gruelling 85-mile cycle takes in some of Perthshire's most stunning scenery.
Partnered with Marie Curie, the event, on May 19, aims to raise £80,000 for the cancer charity this year.
Around 4,500 cyclists took part in last year's event, spurred on by event ambassador and round-the-world cyclist Mark Beaumont.
The mass-participation event, now in its 13th year, was extended to give riders the chance to pedal an extra four miles through the spectacular landscape.
The fastest person – and the first across the finish line – was Milton Keynes cyclist Jeremy Honor who zipped round it in an impressive three hours, 40 minutes and 14 seconds.
It was the 11th time the 49-year-old had tackled the gruelling route, having first attempted it in 2008 after being inspired by a feature he read in The Courier while on holiday on the shores on Loch Rannoch the previous year.
"At the time, I was a keen triathlete and more a pleasure cyclist than a purist on the bike so was interested to read about Etape," he recalls.
"It was from that first flirtation with the article that I set about planning to ride the event in 2008."
Jez's first attempt took him a respectable four hours, 41 minutes and 46 seconds, but he was determined to return and improve on this time the following year.
Alas, he was among hundreds of cyclists who had their tyres punctured by tacks in 2009 and the event was suspended and then shortened to 73 miles.
"After several punctures and lots of walking, I crossed the line cold, with a hugely disappointing feeling and a time of five hours, 30 minutes and 18 seconds," he says.
The intervening years had their ups and downs but Jez's big moment came last year when he made it first across the finish line with the fastest time – after a solid decade of trying.
"Although not a competitive race in the true sense, that was a pretty special moment for me," he reflects.
"When I started out in 2008, I was 38 and nothing more than a cyclist enthusiast.
"It was undoubtedly the Etape that drove my competitive spirit to improve.
"The natural beauty and friends I've made along the way have made this 11-year quest all the more enjoyable and rewarding and I can't wait to do it all again in May."
Helen Stevens, Marie Curie Senior Project Manager for Etape Caledonia, is urging cyclists to sign up for the event as soon as possible.
"Etape Caledonia is an epic experience in a stunning setting – a must for every keen road cyclist," she says.
"We're thrilled to be charity partner for the 2019 event and hope cyclists across the UK will be inspired to take part for team Marie Curie and raise vital funds for families living with terminal illness."
The Etape Caledonia was the UK's first and original closed road event when it launched in 2007.
This year's organisers, Limelight Sports, are encouraging past participants to get back in the saddle on May 19 to pedal Perthshire. As well as the 85-mile closed road circuit, a shorter 40-mile route is also available. The total ascent is 1,949m.
info
The UK's first and only closed road mass participation cycling event, Etape Caledonia has attracted more than 35,000 people since it debuted in 2007.
With 5,000 places on offer each year, this event attracts riders from all over the country to take on one of the most breathtaking rides through the spectacular Highlands Perthshire countryside.
The event appeals to cycle club enthusiasts, recreational cyclists, gym members and those looking for a new physical challenge in the stunning Highland Perthshire area.
Participants can make the most of their event weekend and soak up the festival atmosphere in Etape Caledonia's new and improved event village where they can enjoy locally sourced food and drink and live music. The village is open to all riders, supporters and spectators.
Team Marie Curie charity places start at £24.99 for a 40 mile place (£150 minimum sponsorship).
For an 85 mile pledge place, it's a £59.99 registration fee (£350 minimum sponsorship).
The 85 mile "Gold Bond" option includes premium benefits and is a £59.99 registration fee and £650 minimum sponsorship.
Over the years, Etape has made more than £1.6 million for Marie Curie.
For more information and to sign up, see www.etapecaledonia.co.uk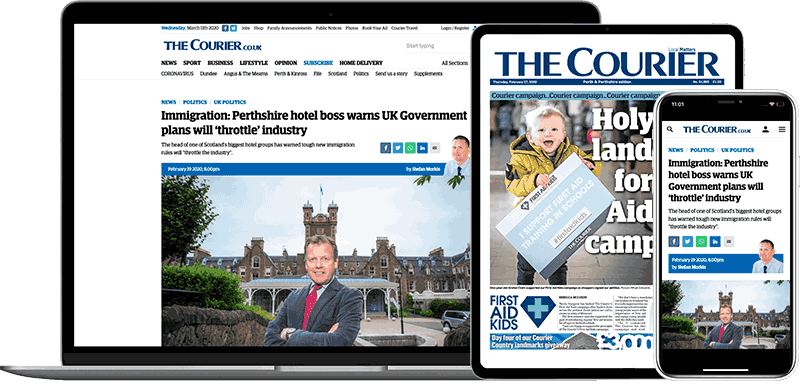 Help support quality local journalism … become a digital subscriber to The Courier
For as little as £5.99 a month you can access all of our content, including Premium articles.
Subscribe