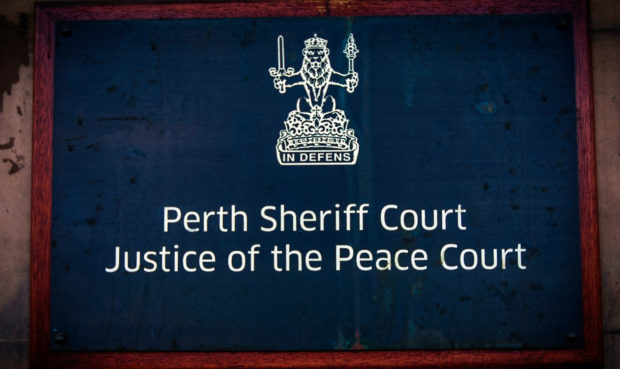 An 80-year-old man who dumped barrels of human waste at a roadside in a long-running dispute with the council has narrowly escaped being jailed.
Pig farmer Peter Roy was told his age and his role in caring for his frail wife were the only things keeping him out of prison.
Roy "deposited waste liquid and solid human excrement" repeatedly after refusing to back down in a 17-year-long feud with Perth and Kinross Council.
Perth Sheriff Court was told the pensioner filled barrels with human waste and left them at the roadside near his home in Madderty, near Crieff.
The court has heard how Roy let his pigs move into his home while he and his wife moved into a coal-fired caravan adjacent to the crumbling farmhouse.
Roy was made the subject of an abatement notice by the council in 2002 to prevent him depositing his waste in public. He claims the council should be responsible for picking it up.
He admitted that between December 3 2015 and May 11 2017 he deposited human waste and failed to remove "an accumulation of refuse" in the Perthshire village.
Sheriff Lindsay Foulis ordered him to carry out 300 hours' unpaid work and told Roy the sentence was a direct alternative to custody.
He said: "In the nicest possible way – I don't care what the background is in relation to this. You clearly feel you have a grievance somewhere.
"I don't care about that. This problem with regard to waste being left has been going on for a considerable period.
"Bearing in mind I have been a sheriff here for 18 years that gives an indication of how long this has been going on.
"These issues have been the subject of criminal prosecutions on a number of occasions and attempts have been made to try and find a solution, without success.
"You are aged 80. Your wife, unfortunately, would appear to have health issues, and you are involved in her care.
"If it wasn't for your age and her medical position I wouldn't blink so much as an eyelid – you would be going to custody."
The court has heard how Roy has repeatedly subjected the Perthshire village to a pollution problem which is heightened during the warm summer months.
Neighbours have spoken of the overwhelming stench which hangs in the air as a result of the numerous barrels of waste dumped by Roy.
The local authority have tried to mediate with the pensioner since the dispute first arose almost 20 years ago but he has continually ignored advice.
In 2009, Roy was found guilty of breaching an Asbo by storing 80 oil drums full of human waste near a road junction.
An Asbo was granted against Roy after the court heard how all 300 residents had been left feeling sick because of the stench drifting from his farm.
Roy dumped thousands of gallons of waste during a protest campaign against Perth and Kinross Council over claims the council should help repair his home, which was deemed unfit for human habitation.
He has also left wheelie bins, cement mixers and even a bath full of human excrement on the village's main road.
The court heard he let pigs move into the farmhouse and a tree had grown up through the floor to the point where the building had become uninhabitable.