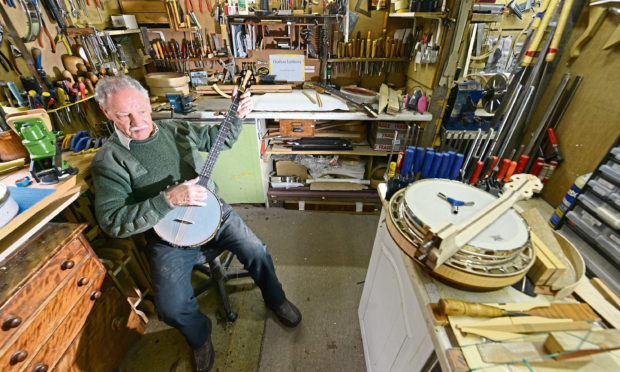 A Perthshire gamekeeper-turned-banjo-maker, who makes instruments for Billy Connolly, has received a special message of thanks from the comedian.
Euan Cattanach, 78, has been making banjos, mandolins, resonators and guitars for more than 20 years and recently made one especially for the comic.
Born in Peebles in the Scottish Borders – but now living in Aberfeldy – Euan started making string instruments from a life-long interest in woodwork.
---
>> Keep up to date with the latest news with The Courier newsletter
---
He lives with wife Irene, 75, and owns his own banjo-making and repair business, Chattan Luthiery.
Euan is part of a small luthier community in the UK, and reckons he is the only banjo maker in Scotland.
As part of a recent two-part documentary, Made In Scotland, Billy Connolly visited the workshop, where he was gifted one of Euan's handmade banjos.
The Big Yin referred to Euan as "the only gamekeeper-turned-banjo-maker living and working in Scotland today – or ever, for that matter – and his work is inspiring."
Euan said: "I have never had anyone famous come along in my life.
"Then Billy Connolly came in and, since then, it's gone pretty mental.
"That one Billy got, he loves it."
In a thank you message, sent from Florida, the Big Yin wrote of his gratitude for the fretless banjo, saying: "I have been giving it a real seeing-to since I got it and can now do a pretty impressive version of Cluck, Old Hen. It is a real beauty and I will treat it with the great respect that it deserves."
Euan has also sold a banjo to Peggy Seeger, the sister of legendary American folk singer Pete Seeger, and says he gets a steady stream of customers – some from abroad.
He said: "She (Peggy) was doing a concert nearby in Dunkeld and wanted to borrow a banjo, but then she couldn't get her hands off it.
"I also had a guy who flew into Edinburgh from California.
"He was a movie-maker and came all the way to buy one then flew back home to the USA again."
Euan's gamekeeper father had a workshop where he made everything from farm gates to fine furniture, and Euan was encouraged to pick up the tools and make his own creations from a young age.
He said: "I have been making quarter-scale radio model aeroplanes since I was 14 then realised I should start making mandolins and guitars.
"I've been making string instruments seriously for at least 12 years. The fact that I wanted a good guitar but couldn't afford it got me into it, then I got into making the square neck resonators.
"I was watching a guy on YouTube making banjos and thought I could do it too, and that's what I've done."
Euan is currently training two novice banjo makers and has an order list of mandolins and banjos, which can take two to three weeks to make.
He said: "Making banjos is the main reason I'm alive right now. I'm 78 and I want to make them until I'm 102."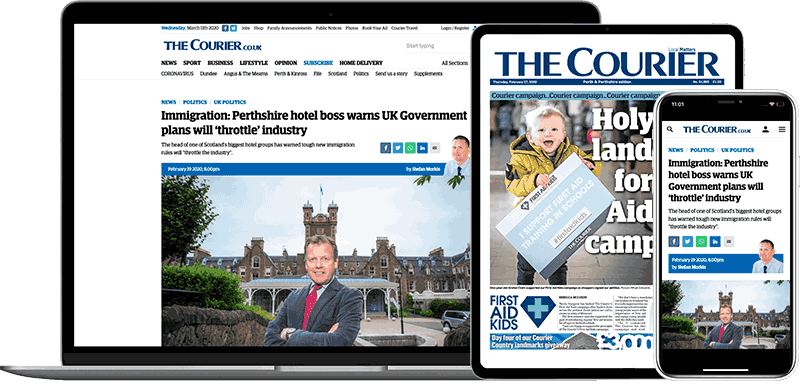 Help support quality local journalism … become a digital subscriber to The Courier
For as little as £5.99 a month you can access all of our content, including Premium articles.
Subscribe