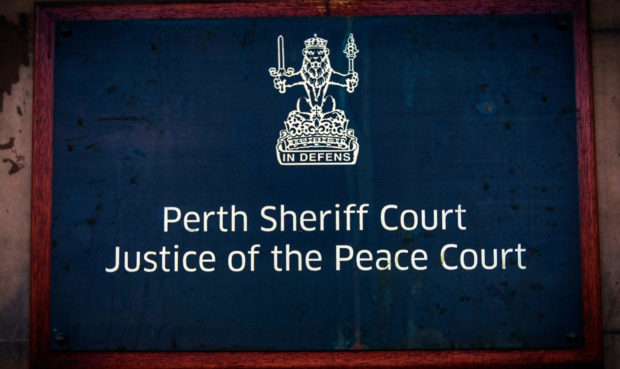 A pensioner has been found guilty of subjecting his next-door neighbour to a sinister five-year hate campaign.
Michael Waters, 70, carried out a bizarre pattern of behaviour which left his neighbours living in fear and one so stressed she ended up in hospital.
Police were called out up to 20 times as Waters continually entered their property uninvited and stood on his garage roof taking photographs.
After a trial at Perth Sheriff Court spanning nine months and seven days of evidence, Sheriff Derek Reekie found Waters guilty of stalking Robert and Lindsay Robertson in Keltybridge, Perthshire.
He was convicted of engaging in a course of conduct between August 4 2011 and November 1 2016 which caused them fear or alarm.
Waters was also found guilty of causing Patricia Renwick, 65, fear or alarm by acting aggressively on various occasions from September 2015 to September 2016.
Sheriff Reekie said: "Mr Robertson spoke of you 'trying to make your presence felt' after they moved in. Mrs Robertson described you as 'a malevolent presence' – menacing her in intimidating fashion when she challenged you.
"They spoke to you about entering their property without permission, ostensibly to carry out maintenance. Both said you became aggressive and abusive.
"You climbed over a fence and interfered with property. Both spoke to you about looking in while up ladders or on the roof. You were standing on the roof taking photographs of their property.
"Mrs Robertson described your conduct as relentless. You were generally angry, intimidating and abusive. You wanted to encourage confrontation and escalation from there.
"Some of your behaviour could be described as bizarre. The length of time you were loitering on the roof gave me the impression it was more sinister than you would have me accept.
"You demonstrated a quite sinister demeanour towards Mrs Robertson. You considered you had entitlement to enter their property because you considered you owned some of the ground."
Mrs Robertson told the trial that she felt she had been "under siege" and was taken to hospital because of the stress caused by her neighbour's behaviour.
Sheriff Reekie said: "She suffered a panic attack and had to be taken by ambulance to hospital. It was clearly apparent from her distress in giving evidence.
"Both were caused significant fear and alarm. There was significant involvement by the police. Mr Robertson said he called them about four times a year.
"The main interest of the people involved is to live their life quietly. They just want to live in peace. It is an unusual and concerning case.
"If anybody has had the misfortune of having a neighbour dispute they will know they are extremely difficult."
He noted mediation had been tried and failed and said he was struggling to know what sentence to impose to help the situation.
He deferred sentence for good behaviour.
The trial was told Waters had moved bins and flower pots, painted a wall purple without permission and repeatedly stared at his neighbours.
Mr Robertson said Waters had been "angry and unpredictable" and had given the impression he hated them "for some inexplicable reason".
He told the court: "There has been no respite. It would change for about two months or so then boil up again.
"It's something that's always in the back of your mind, that it could kick off. It's all for attention. It's to get a reaction.
"On one occasion my wife had a panic attack and had to be rushed to hospital. It was an immediate knock-on effect of his actions."