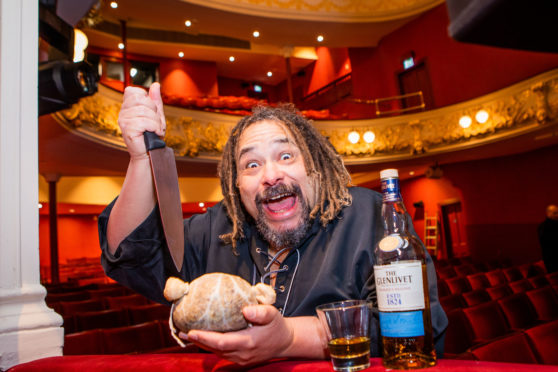 Perthshire comedian Bruce Fummey is taking the words of the Bard to the Far East as he prepares to perform at a Burns supper in Asia.
The funnyman from Blackford will headline the comedy club at the British Club in Singapore on Saturday, before hosting the St Andrew's Society of Singapore Burns Supper.
It will be a flying visit as Bruce will immediately leave on an overnight flight back to the UK, to perform at another Burns supper in Bannockburn on Sunday.
The former physics teacher and Scottish Comedian of the Year is a long-time fan of the Scottish Bard and launched himself on to the international Burns circuit after an acclaimed Edinburgh Fringe show about Tam O'Shanter, which culminated with a stirring rendition of the poem.
In recent years he has used the Scottish celebration to kick-start his tours, performing in various places across Asia on his way to Perth, Western Australia, for the annual Fringeworld Festival.
This year he will be returning to the much colder Perth for his home town show, Have You Been Involved in A Comedy Show That Wasn't Your Fault?
Bruce said: "For the last five years Burns Suppers in Asia have been stopping off points on my way to a few weeks performing at the Fringeworld Festival in Perth.
"It's great this year to be coming back to the real Perth, with real weather, to be with my own folk."
Bruce, son of a Scottish mother and Ghanaian father, jumped into public speaking from an early age.
Despite performing across the globe, he has strong roots in the Fair City, where he was formerly president of Perth's Speakers Club.
His first one-man show, Where are you Really From?, at the 2005 Glasgow comedy festival was followed by his first appearance at the world-famous Edinburgh Fringe festival the same year.
He will perform his latest show at Perth Theatre on Saturday February 23.