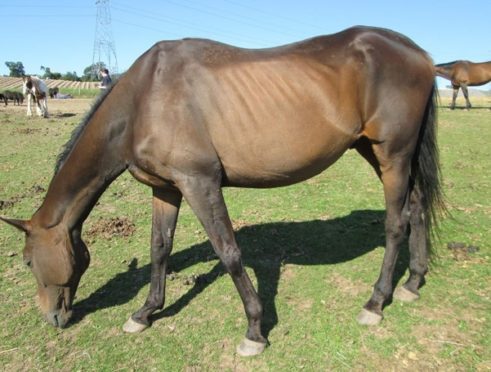 A woman who rehomed a thoroughbred with a Perthshire "holistic horse whisperer" caught up in a major neglect investigation has said she tried to raise concerns about the way the animals were being kept in 2015.
Dianne Stuart fears the horse, named Harry, was among the 22 removed from a farm near Cupar, where they had been placed by Anne MacGregor, by the Scottish SPCA.
Four of the horses have since been put down by the animal welfare charity.
Mrs Stuart, who manages Exracehorse Rehoming and Rehabilitation Centre, Aberdeenshire, said she gave Harry to Ms MacGregor in 2012 after she responded to an advert but she later had concerns about how he was being treated.
She said she paid an unannounced visit to a farm near Perth where the horses were then being kept in 2015 and was horrified at what she found.
"Judging by the state of the horses they had been without food for some time. I tried to get the horse back but I wasn't able," she said.
"I still have the guilt that I gave her the horse in the first place."
Scottish SPCA chief inspector John Chisholm said: "We received complaints from a member of the public with regards to horses in the care of Anne MacGregor in 2015.
"One of our inspectors visited the premises following the complaint and clear advice was given to ensure that animals' welfare needs were met.
"There were no statutory care notices raised.  Inspectors followed up with another visit to the property to make sure that the advice given was adhered to and were satisfied with the outcome."
Ms MacGregor has published a statement on social media defending her treatment of the horses while they were stabled in Fife in January this year and explaining she had been "struggling with ill-health".
More than 20 animals removed from care as Fife 'horse whisperer' faces animal neglect investigation
She said: "At no time were the herd starving and all efforts were made to ensure herd fed and watered on daily basis. When the cover failed on a particular day. I personally called for immediate help.
"I have always aimed to ensure the best for the herd amidst a few previous allegations, to which I have defended myself through solicitors."
She said she personally contacted the Scottish SPCA in January to ask for help to rehome the horses.
"The SSPCA visited the herd and between them, their vet and myself agreed an action plan to remove the herd.
"Collectively the above parties vetted the herd fit for travel bar one who had cellulitis and of an older age and agreement made to be pts (put to sleep). The rest were deemed fit to be moved to new rehomed premises.
Three horses put to sleep after being taken from farm amid 'whisperer' neglect probe
"This has been a traumatic and extremely stressful time. I wish now for some personal time to try and get better and recover."
Ms MacGregor previously offered her services as a horse whisperer for up to £45 a session and said she used reiki, a Japanese healing method, and telepathic communication to treat the animals.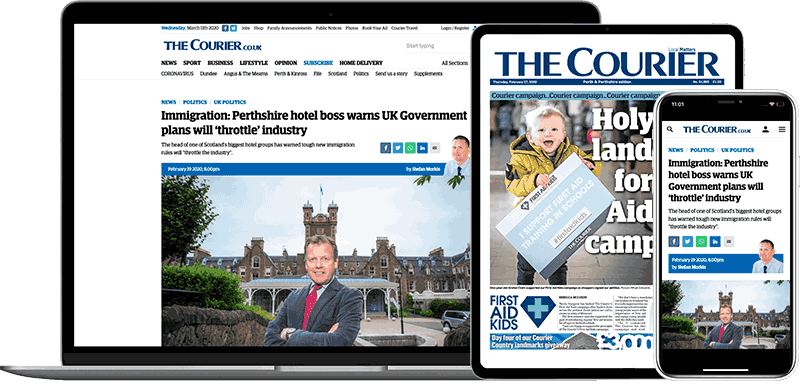 Help support quality local journalism … become a digital subscriber to The Courier
For as little as £5.99 a month you can access all of our content, including Premium articles.
Subscribe