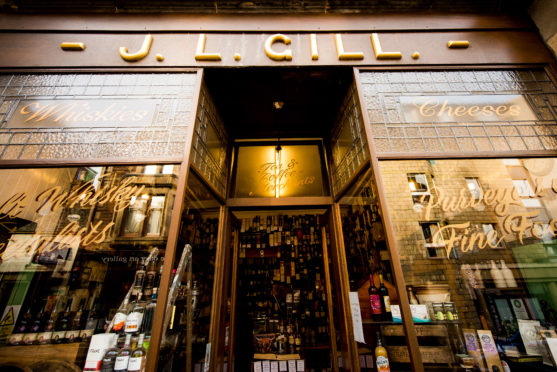 The owners of a family-run whisky shop have been left reeling by the second break-in this month.
Thieves stole collectors' items worth thousands of pounds from Crieff-based J.L. Gill, which sells a range of Scottish produce.
Some 26 bottles of whisky and sherry were taken in the early hours of Friday morning, with one alone worth up to £10,000, as well as tobacco and cigars worth £1,000.
It comes less than a month after the shop was targeted by thieves between Hogmanay and January 4. Only two bottles were taken on that occasion but they had a combined value of £10,000.
Devastated owner Andrew Cuthbert was not available to speak but his father, Steuart Cuthbert, who ran the business with his wife as a grocer before passing it down 20 years ago, said the whole family had been rocked by the theft.
"We are all in a state of shock," he said.
"My wife opened the shop in 70s and it changed to specialise in whisky and Scottish produce when Andrew took over 20 years ago.
"It has been 20 years of blood, sweat and tears from him so the audacity of these people thinking they can just come in and take it is soul destroying."
The thieves climbed through a small bathroom window, cutting metal security bars protecting it, before making their way through a security door and disabling the CCTV cameras inside.
Less expensive bottles of spirits were cast aside in favour of the most valuable items, leading Steuart to believe the theft was carefully planned.
"Judging by what they have taken it was someone who knew specifically what they were looking to get," he said.
"It's a significant haul and they wouldn't have gone away with what they did without knowing what they were looking for.
"They also knew what they needed to do to get in and had the tools to do it."
The Cuthberts are appealing for anyone with information or CCTV footage of the surrounding area to tell the police.
The most expensive item taken was a Macallan 30-year-old, which has recently sold for between £5,000 and £10,000.
The raiders also made off with three bottles of Old Perth, of various vintage, three bottles of Highland Park Fire, five bottles of Mortlach and many others, including a special edition Springbank Local Barley.
The shop is insured but Steuart said the pay-out would not cover the value of the stolen items, as well as repairing the damage to the store.
He added: "We have had a lot of support from the whisky industry.
"Auction houses have been in touch saying they will look out for the items and let us know if they come across any of them but I think it is more likely that collectors will buy them on the black market."
Anyone with information is asked to call police on 101.