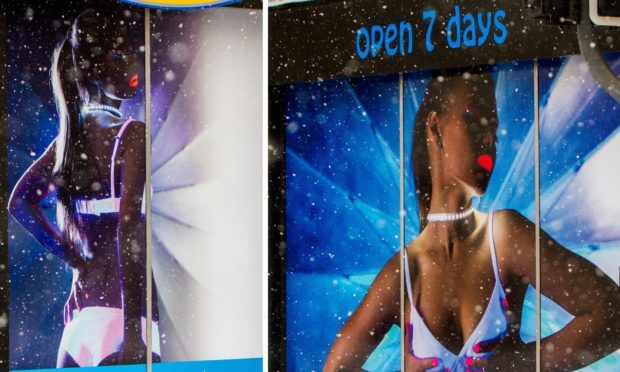 A national tanning salon company has been "forced" to quit Perth after a bitter feud with council chiefs over a "sexualised" window display.
The under-fire Sun Shack, at the corner of Princes Street and Canal Street, will close its doors later this month with the loss of about six jobs.
Perth and Kinross Council had earlier demanded that the branch remove or cover up its larger-than-life images of bikini-clad women.
It followed a complaint from city centre councillor Peter Barrett, who suggested the risque shopfront display was having a negative impact on neighbouring historic sites.
Sun Shack, which has 18 stores with similar shopfronts throughout the country, has not commented publicly on the row.
A notice on the shop door alerts customers to the shop's final day on February 13.
"Apologies for the inconvenience this causes," it states. "We would like to thank all customers for their loyalty and custom since we opened."
A spokeswoman said: "We have taken the decision to close the salon in light of the council's enforcement order to remove both our sign and all window graphics."
She added: "We are disgusted by Councilor Barrett's behaviour and equally disappointed with the council's decision.
"Instead of helping businesses in Perth they have forced one to close. We thank both our staff and customers for their support and loyalty."
The Glasgow-based chain opened its Perth branch in November 2017.
Mr Barrett called for enforcement action against the display in March, the following year. He described the images as "offensive and overtly sexual".
Sun Shack was then told to submit a retrospective application for advertising consent, which was rejected just days for Christmas despite no objections from residents or businesses.
Planning officers said the pictures – including a bikini-clad woman clutching her breasts – were "excessive in size" and had a "particularly harsh appearance".
It is understood the council were preparing fresh enforcement action against the firm.
Mr Barrett said: "I don't want to see any local businesses close or people to lose their jobs and I am concerned for those staff.
"Sun Shack were refused planning permission for the window advertisements before Christmas and they have until March 12 to appeal that decision.
"Planning enforcement officers advised me that enforcement action would not be taken during that period.
"However the council have been in touch with the building's owners and if the business ceases trading later this month that may allow for sexualised images to be removed sooner and the amenity of the immediate local area to be improved."
It is not the first time Perth and Kinross Council has taken exception to a risqué window display.
The authority was moved to investigate Ann Summers after a spate of complaints about its High Street store.
Residents objected when the branch – now closed – opened its doors at the prominent site in 2002.