Outraged Aberfeldy locals have blamed a shortage of local firefighters for the severity of a blaze that gutted two flats in the centre of town.
The fire broke out in Kenmore Street on Friday night, around five minutes' walk from the town's fire station on Crieff Road.
Too few retained firefighters were available to operate the town's fire engine, leading to a 27-minute wait for vehicles and crews to arrive from Pitlochry.
Residents claim the delay led to a kitchen fire escalating into a blaze that destroyed more than three quarters of the building's roof.
Crews from five appliances battled for more than three hours to extinguish the fire after witnesses described a building "engulfed by flames".
One man said: "I am alarmed about this delay. The station is just around the corner and this could have been contained as a kitchen fire rather than something that spread through the entire building."
Retained firefighters only attend the fire station when they have received an emergency call-out. For much of the time, a retained fire station is unmanned.
A small group of Aberfeldy firefighters are believed to have attended the incident, but as there were not enough of them to operate the fire engine, they were forced to wait for the additional crews to arrive.
One witness said: "The fire tore through the upper flat in the kitchen and living room area.
"The person in the upper flat was awoken by the smoke and evacuated the house as did the person in the lower flat.
"Both properties have been badly damaged by fire, smoke and water."
Firefighters rushed to the Highland Perthshire town after being alerted at 10:31pm on Friday night and battled the blaze until past 2am on Saturday morning to ensure it was fully extinguished.
A further inspection on Saturday morning confirmed there were no more hotspots and the fire had been fully extinguished.
The Scottish Fire and Rescue Service confirmed there had been no casualties.
A spokesperson said they had mobilised four fire engines and one cherry picker-style device to Kenmore Street where firefighters "were met with a well-developed fire."
Gordon Pryde, Scottish Fire and Rescue Service's local senior officer for Dundee, Angus and Perth, said: "The Scottish Fire and Rescue Service exists to ensure the safety of our communities.
"Aberfeldy station is crewed by retained firefighters who were unavailable during that time, however, appliances from other areas were mobilised to the incident immediately with the first crew from Pitlochry arriving at 10.58pm.
"The Scottish Fire and Rescue Service continues to attend at every emergency."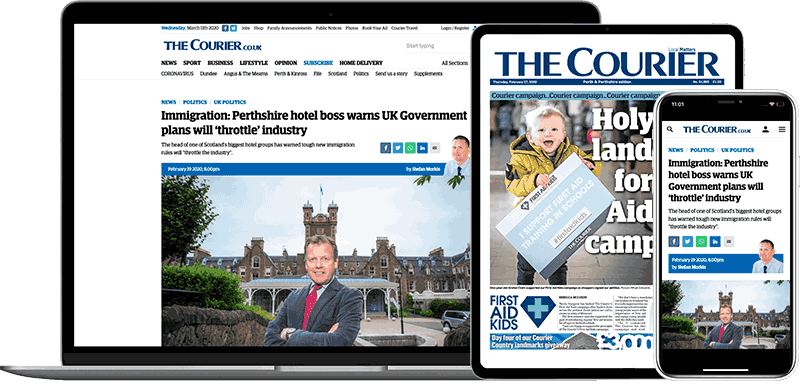 Help support quality local journalism … become a digital subscriber to The Courier
For as little as £5.99 a month you can access all of our content, including Premium articles.
Subscribe