A principal teacher went on a 40-mile drive to school with "almost zero visibility" through the snow and ice on his windscreen, a court heard.
Neil Jessop, 39, could see very little of the road ahead as he drove over the Queensferry Crossing as the Beast from the East descended last year.
Visibility was so bad, police said he was effectively blindfolded.
He began veering across the motorway just north of the bridge as he drove at around 70mph, almost colliding with a police car.
When officers pulled him over at around 8am, they found Jessop behind the wheel of the freezing car, wrapped in a sleeping bag.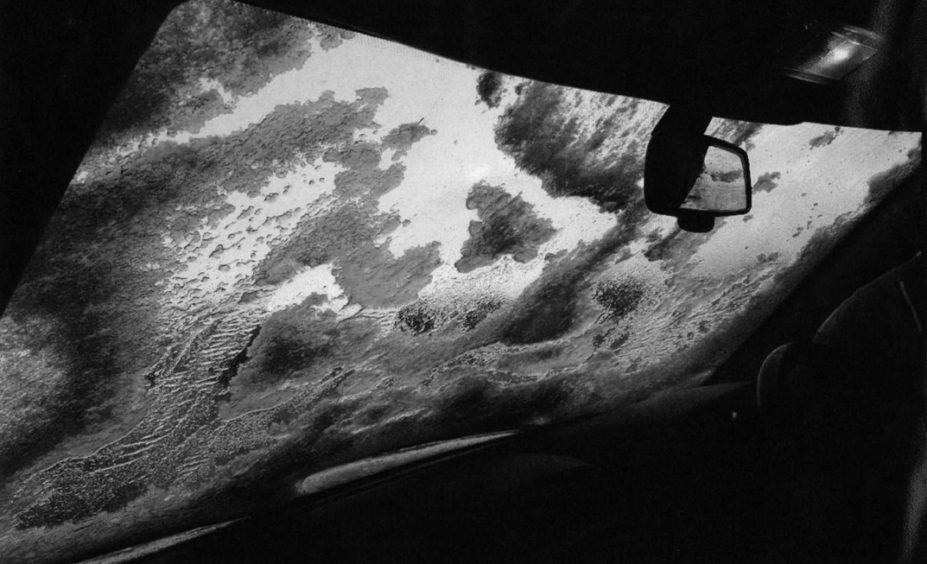 He told them his car heater was not working, but the presiding sheriff said his account was "quite untrue".
Jessop had been driving from Edinburgh to St John's Academy in Perth, where he is principal teacher of art.
A trial at Dunfermline Sheriff Court was shown photos taken by police inside and outside the car, displaying an almost complete lack of visibility through the windscreen.
Sergeant Nicola Young told the court Jessop's car had been travelling at 60mph-70mph just before it was stopped.
Jessop, of Corstorphine Bank Avenue, Edinburgh, was found guilty of two charges.
He denied that on February 28 last year on the M90 near junction one he drove a car dangerously in heavy traffic without a full and clear view of the road ahead, his windscreen being heavily obscured by a thick layer of snow and ice.
He had also denied being unable to make any observation of the road and driving into the path of a marked police vehicle, causing its driver to take evasive action to avoid a collision.
In his evidence, Jessop claimed he was "100%" sure his heater was working when he started out but it broke down around two miles south of the bridge.
By the time he was pulled over by police five miles later the windscreen was covered in snow and ice. Jessop told the court, "It was absolutely freezing. It was at the start of the 'beast from the east'."
He said: "I made a mistake. I'm very sorry. I thought it would be the safest option to get off the bridge and out of the rush-hour traffic."
Solicitor Roshni Johshi said her client had the support of his employer but losing his driving licence would mean the future of his job in Perth was uncertain.
Sheriff James MacDonald banned Jessop from driving for a year and fined him £500. The sheriff said Jessop's claim that an inch of ice had quickly developed on his car when his heating stopped working was "fanciful" and a "quite untrue account".
The sheriff said, "There was almost zero visibility to the front. This is not a borderline case, it's a clear case of dangerous driving."
Perth and Kinross Council and the General Teaching Council for Scotland refused to comment.