 A US singer is offering fans the chance to join him on a rock and roll summer camp-style getaway in highland Perthshire – for up to £4,599 a ticket.
Ben Folds, who rose to fame in the 1990s, has announced a four-day retreat in Pitlochry featuring exclusive concerts, workshops and activities such as horse riding and rafting on the River Tay.
It is the singer's second major excursion, after a similar adventure in Cuba two years ago.
But some fans have balked at the high price tag, with comparisons being made to the notorious Fyre Festival which famously charged guests up to £75,000 for a weekend in a disaster relief tent.
The cheapest option for Fold's trip in July is £1,533 per person, for a shared room with two beds at Pitlochry's Atholl Palace Hotel.
A more luxurious suite is available for just under £4,600.
Facebook follower Roo Lee posted: "As a lifelong fan I'm saddened by this. Basically, a four-day mini-break for the privileged few."
Another fan wrote: "Certainly not aimed at Ben's Scottish fans! Crazy prices!"
One wag wrote, in reference to the recent Fyre Festival film: "I'm waiting for the Netflix documentary."
Other supporters have defended the offer, pointing out that the packed line-up of activities and luxury accommodation is value for money.
Fan Carl Doig was among those who responded more positively. "Given Scotland is often forgotten about in most fans' UK tours, this is fantastic," he said.
Organiser Dreamcatcher Events has so far not responded to requests for comment.
In a statement to fans on the event's official website, Folds said: "These VIP trips give me a chance to meet you in person and share some great experiences together, so I hope you'll consider joining us."
He added: "Some of you may recall our last VIP trip which took us all to Cuba.
"Since then many of you have reached out asking where and when we should go next.
"This time our destination will be the Highlands of Scotland: Home to some of the finest whiskies, coolest castles, and most beautiful scenery in the world.
"On this trip you can you can expect full VIP treatment. You'll stay in a castle, dine like royalty and get to choose from a myriad of experiences that include hiking, river rafting, horseback and bike riding, an exclusive workshop hosted by me on photography."
On the first night, Folds promises a private concert at Atholl Palace. There will also be a public performance at Perth Theatre, with "premium seating" for getaway guests.
The itinerary also includes the "Ben Folds Highland Games", a ceilidh, a talent show a "photo op with Ben".
The getaway begins on Monday, July 15.
Fyre Festival
Like the infamous Fyre Festival, organisers are targeting an exclusive breed of music fan with plenty of money to spare.
But hopefully that's as far as the comparisons go.
The 2017 Fyre event has been dubbed one of the biggest festival flops and inspired two recent documentaries which can be viewed as disaster movies for the Instagram generation.
Organisers promised luxury food and accommodation in the Bahamas, for tickets of up to $100,000 (around £75,000).
What guests got was rain-soaked mattresses in tents that are usually used to rehome displaced families after natural disasters.
Visitors were served food including cheese slices on bread.
The festival was organised by rapper Ja Rule and businessman Billy McFarland. They used social media influencers – mainly supermodels – to promote the brand online.
McFarland was later convicted of fraud and jailed for six years.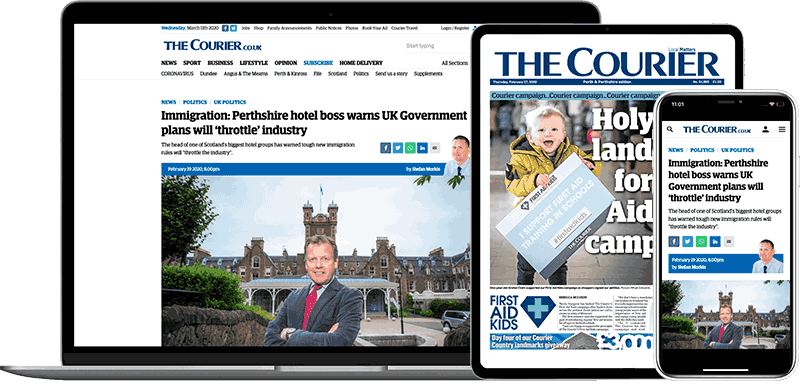 Help support quality local journalism … become a digital subscriber to The Courier
For as little as £5.99 a month you can access all of our content, including Premium articles.
Subscribe