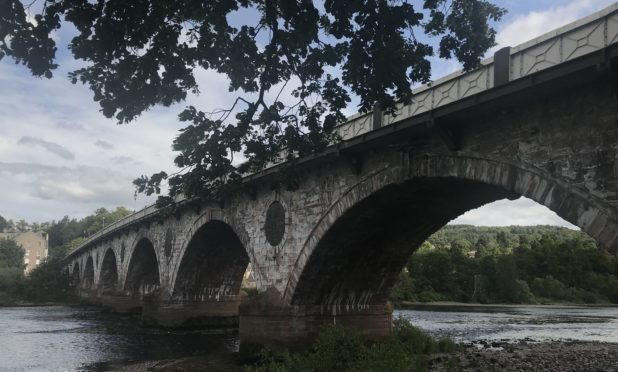 Landmark bridges in Perth city centre need more than £5.2 million of improvements, it has emerged.
A detailed study has highlighted the need for major restoration work at both the Queen's Bridge and Old Perth Bridge.
Engineers carried out inspections of the historic crossings at the start of 2018. The assessment revealed that work was required to ensure the structures continued to support traffic and pedestrians.
In 2017, more than £120,000 was spent on assessing the crossings following a spate of floods.
During torrential downpours at the start of 2016, the Queen's Bridge was forced to close three times as water rose to near record levels.
Although the 58-year-old structure was checked at the time and declared safe, council leaders said they wanted to push ahead with a full inspection.
The A-listed Perth Bridge – also known as Smeaton's Bridge – is the most historic of the two, built in 1771 and funded by the Thomas Hay, the 9th Earl of Kinnoull.
Details of each major flood the bridge has survived are etched on one of its arches.
Work on the bridges is expected to be carried out over the next three years.
The costs – £2.57m for Old Perth Bridge and £2.6m for Queen's Bridge – are detailed in Perth and Kinross Council's composite capital budget plan.
A report to go before councillors on Wednesday also proposes a £1 million payment to the transformation of the city's old St John's Primary School into a "creative exchange" for up-and-coming artists and businesses.
Senior accountant John Jennings said work began on the hub in November 2018, with a total budget of £4.28m.
"At the time of developing the project, it has been assumed that up to £1m of funding would come from the Tay Cities Deal," he said.
"As this project was not ultimately included within the Heads of Terms agreement between UK and Scottish governments, it is now proposed to meet the shortfall in funding from the estimated capital budget resources."