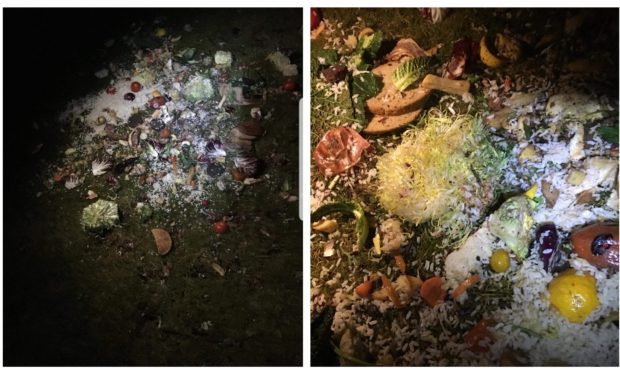 Rotting fruit and other food waste has been dumped at a Perthshire beauty spot in a spate of fly-tipping.
Piles of fruit, vegetables, rice and bread have appeared near Pitlochry Dam multiple times in the last few days.
Town residents and staff of the dam's SSE visitor centre have been clearing up the mess as it appears on the grassy area across from the tourist attraction, but new batches are now being dumped almost daily.
Gillian O'Reilly,  head of heritage at SSE, said enough food to fill a black bin bag was first discovered on Wednesday February 13,  on the open ground between Ladies Dell and the main dam walkway.
Staff from the visitor centre cleared up the mess on Wednesday, before finding more on Saturday, Sunday and yesterday.
Ms O'Reilly said: "We are deeply disappointed by the actions of a mindless minority.
"We cannot understand why anyone would want to degrade an area of local beauty by dumping large quantities of food waste.
"We have reported the incidents to Environmental Health, the police and local councillors and we've worked with the community to clean it up."
The recurring mess has angered Highland SNP councillor Mike Williamson, who heaped praise on those who helped clear it.
"It's appalling that people think it is acceptable behaviour to dump waste like this," he said.
"This is a real beauty spot that brings hundreds of thousands of tourists in every year. "It is a concern for dogs as well and the implications it has on them, as well as being a health hazard.
"It is very commendable the way local residents and SSE staff have cleaned up the mess at the site."
Mr Williamson added areas around the A9 are hotspots for fly-tippers and is keen to see the problem stamped out.
A police spokesman said: "If anyone sees fly-tipping in their area we would urge them to contact Police Scotland on 101 and, if possible, provide descriptions of people or vehicles used.
"Fly-tipping is an offence and anyone detected of this crime will be charged and reported to the procurator fiscal."
A Perth and Kinross Council spokesperson added: "We would encourage all members of the public to help this process by being responsible with how they dispose of their own waste, and where they do spot fly-tipping to report it as soon as possible.
"If you know the source of any fly-tipping please report this to us as well. All such information will be treated in confidence."