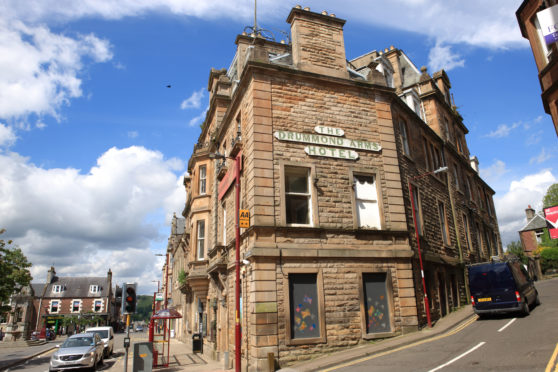 Perth and Kinross Council have had to clear up broken glass after it fell from a dilapidated building in Crieff.
Earlier this week, the local authority were forced to attend the site to sweep up shattered glass which had fallen from the the Strathearn town's Drummond Arms Hotel.
The former hotel has fallen into disrepair and as a result many local residents, including Crieff Development Trust, have voiced their fears over public safety.
A PKC spokesperson confirmed: "Council officials visited the site on Monday, February 18, after reports that over the weekend broken glass had fallen from the building on to the footpath below.
"It was found that a window pane was broken but the window frame is intact with some glass visible within the frame, so it appears that the window had been struck.
"The council have cleared all the broken glass and have contacted the owner of the building regarding their responsibility to maintain the building to a safe standard.
"Remedial works to address concerns with the building are expected to take place this week."
A spokesperson for BEAR Scotland said:  "Trunk road safety is our top priority and we've taken precautionary measures to keep pedestrians away from the building by temporarily closing the pedestrian crossing and footpath adjacent to the hotel.
"We've contacted the local authority Building Control Officer to advise of this and will continue to liaise with them to hopefully resolve the matter as soon as possible."
Local MSP Roseanna Cunningham is keen to see the building saved from dereliction and has written to both the council and BEAR Scotland to speed up the process.
She said: "The sorry saga of the Drummond Arms being pretty much abandoned by its owners is well known in Crieff and while there are a number of long term ideas being discussed in relation to the building's future, I am concerned that urgent action needs to be taken to ensure, firstly and most importantly, the safety of pedestrians and road users.
"A permanent solution to the problem must be found. This building cannot be allowed any longer to simply crumble into the street. Action is needed before it is too late.
"The prospect of pieces of the building falling and potentially hitting someone below is too awful to contemplate and appropriate steps must be taken to ensure that does not happen."