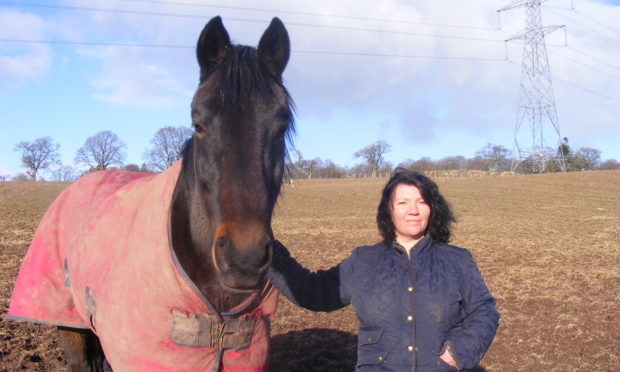 Scotland's leading animal charity has been criticised after deciding not to prosecute a 'holistic' horse whisper who had been accused of neglect.
The SSPCA's chief inspector has confirmed Anne MacGregor will not be prosecuted after signing over her horses into the care of the charity.
SSPCA officers removed a group of horses from a Fife farm in January after reports the animals were starving. Two dogs were also found locked in a stable.
There were initially 22 horses in the group, but four were destroyed either before they were moved or shortly afterwards.
Some of the original owners of the horses – which Ms MacGregor agreed to look after – criticised the charity, which has legal powers to pursue animal welfare offences.
Julie Eley, from Blair Atholl, said: "I am extremely disappointed they are not at least asking for a ban on keeping animals. This lady has lurched from one disaster to another with these horses, dogs and cats in her care."
Another horse owner, who did not wish to be named, said she was "bitterly disappointed" at the decision.
Ms MacGregor, 48, ran a business offering to act as an interpreter between horses and their owners and used the animals in therapy sessions with clients.
Scottish SPCA chief inspector John Chisholm did not give reasons for the decision not to prosecute.
He said: "We have carried out a thorough investigation which has shown this to be a highly complex case.
"Given the circumstances of this case, we do not feel it is appropriate to pursue a prosecution.
"The owner of the horses contacted the Scottish SPCA regarding their welfare in the first instance and worked constructively with us to remove, care and support for them as quickly as possible."
Ms MacGregor did not respond to requests for comment, but published a statement on social media defending her treatment of the horses shortly after the SSPCA investigation began.
She said she had been "struggling with ill-health".
"At no time were the herd starving and all efforts were made to ensure herd fed and watered on daily basis," she added.
"When the cover failed on a particular day. I personally called for immediate help.
"This has been a traumatic and extremely stressful time. I wish now for some personal time to try and get better and recover."