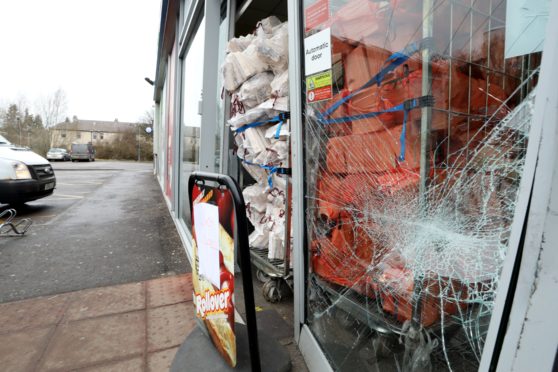 A gang of ram raiders is feared to be operating in Perthshire after two businesses were robbed overnight just days apart.
Police are hunting three men after the Scotmid store in Coupar Angus was hit in the early hours of Thursday morning when a jeep reversed into the shop front.
Pitlochry Festival Theatre was broken into on Sunday night, only hours after its Winter Words festival – featuring high-profile speakers such as historian Neil Oliver, academic Dame Sue Black and broadcaster Kaye Adams – closed after its four day run.
Local reports suggest that a vehicle may have been used to break a large window and gain entry to the theatre, where thieves stole a safe.
A Police Scotland spokesperson said they couldn't yet confirm the exact method used in the raid.
It is not known if the takings from the theatre's Winter Words festival were in the stolen safe.
Nothing is believed to have been taken in the Scotmid robbery, which took place on Coupar Angus's George Street at around 2.50am, after the thieves were unable to get into the shop.
Police are now hunting a dark-coloured Jeep Grand Cherokee which was seen to speed off from the town with three men inside.
One woman living nearby said she had heard the store's alarm sounding at around 3am but had not thought anything was amiss.
She said: "I didn't think it was that unusual to begin with.
"I was aware of the alarm going off and of some kind of vehicle speeding away but we often hear the alarm going off and it never seems to come to anything. Obviously it did last night because the police and fire engines were there."
A Scotmid Co-operative spokesman said: "We can confirm there was an unsuccessful attempt to gain entry into our store in Coupar Angus in the early hours of this morning when our security system was activated, but there was substantial damage to the front doors.
"We appreciate the patience and understanding shown by our members and customers while we fix the damage made by the attempted break-in."
The store reopened shortly after the incident.
Bosses at the Pitlochry Festival Theatre respond to requests for comment regarding the incident.
Police Scotland issued two appeals for witnesses regarding each of the break-ins.
A spokesman said: "Pitlochry Festival Theatre was broken into overnight on Sunday February 17.
"A large window was smashed to allow entry to the building and the safe was then stolen."
Regarding Coupar Angus, a spokesman said:  "Around 2.50am a vehicle attempted to back into the front doors of the shop.
"The vehicle is described as being a dark-coloured older style Jeep Grand Cherokee.
"Three men were within and officers are keen to trace them.
"Anyone with any information should contact Police Scotland on 101."