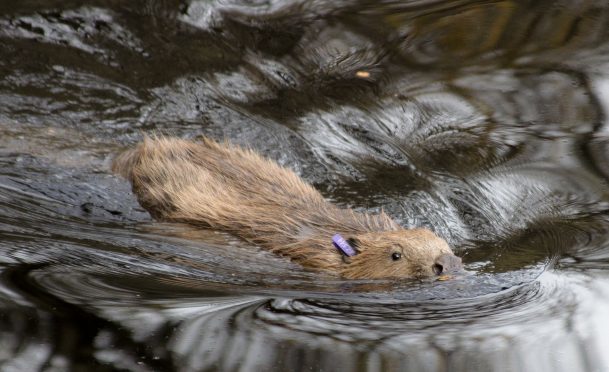 The Scottish Government has agreed to give beavers protected status, The Courier can reveal.
The move will stamp out unregulated culling by making it illegal for them to be shot without a licence.
It follows a plea from the Scottish Wildlife Trust after a female beaver was found shot in the chest at a Perthshire nature reserve.
The trust was among several conservation groups that signed an open letter to First Minister Nicola Sturgeon in December, urging her to take action to safeguard the species and crackdown on uncontrolled shootings.
Beavers were hunted to extinction in Scotland four centuries ago, but were reintroduced to Tayside in 2006.
The Scottish Government will today confirm that the Eurasian or European species will be added to the list of European Protected Species of Animals, protected under Scottish law, with effect from May 1.
Shooting will only be allowed under licence, managed by Scottish Natural Heritage.
Environment secretary Roseanna Cunningham said: "The Scottish Government believes in the highest standards of animal welfare – for both wild and domestic animals – and we felt it was high time that beavers enjoyed the same legal protection as other species like bats, dolphins, wildcats and otters."
She said: "There are few species that have such significant and, largely positive, influence on the health and function of our ecosystems. The importance of beavers to Scotland's biodiversity is huge.
"However, we recognise that beavers can have a significant impact on farming, particularly in areas like Strathmore, which is why we have been working closely with farmers and partner agencies to establish management plans, as well as a licensing system for culling when there is no other alternative."
SNH chief executive Francesca Osowska welcomed the move, saying: "Beavers benefit nature, creating habitats such as ponds and wetlands where other species thrive, as well as alleviating flooding and improving water quality.
"But it will sometimes be necessary to minimise or prevent beavers' impacts on farming and other interests."
She said: "In readiness for beavers' protected species status, SNH has been working with a range of partners including the Scottish Government, farmer and conservation bodies, to produce a strategy for beavers' sustainable future."
An SNH report from October 2018 estimated that there were around 430 beavers living in more than 100 territories across Tayside. An earlier study from just six years' earlier found there were around 150 beavers in 40 territories.
It is estimated that between 50 to 240 have been culled since their reintroduction.
Jonny Hughes, Scottish Wildlife Trust chief executive, confirmed a female had been found shot in Perthshire.
"Without legal protection beavers are subject to unregulated culling," he said. "There is no clear picture of how many beavers are being culled or whether this is being done humanely.
"In addition to the significant positive effects that beavers can have on the natural environment, we realise that there some localised negative impacts that need to be managed.
"However, lethal control should be used as an absolute last resort and must be carried out humanely."