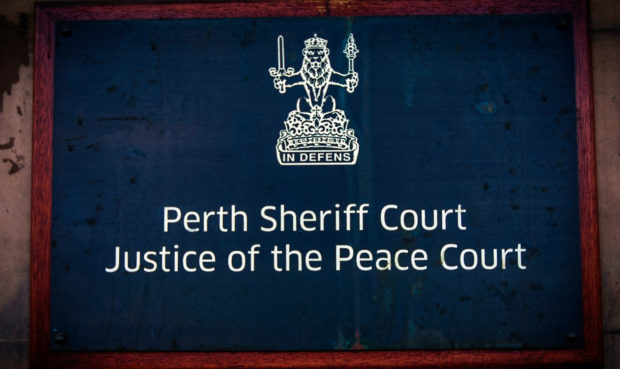 A driver who crashed after reversing along a dual carriageway was carrying out "one of the most dangerous things ever seen" according to a horrified witness.
Steven Bruce was given an interim driving ban yesterday after he admitted coming to a halt on the A9 trunk road before heading backwards into traffic.
The 42-year-old smashed into an unsuspecting motorist who was turning onto the dual carriageway and was unaware of him heading in the wrong direction during rush hour.
Bruce, of Tweed Crescent, Dundee, admitted driving dangerously by reversing along the A9 dual carriageway south of Perth in the direction of oncoming traffic, and hitting another vehicle and damaging both.
Perth Sheriff Court was told that Bruce smashed so hard into the other motorist's car that the female driver's door was caved in and she could only escape out of the passenger's side.
Depute fiscal Matthew Kerr told the court: "It was about 8.30 am and the witness and the accused were at the locus. The accused approached and passed the Forteviot junction.
"Realising this was the junction he should have taken, he braked hard, coming to a stop within the inside lane of the southbound dual carriageway.
"At the same time, one of the witnesses had seen a suitable gap in the southbound traffic and began to turn right, crossing onto the southbound carriageway.
"Another driver remained stationary in the central reservation, awaiting a gap in the traffic to cross.
"As the first witness crossed the southbound lane, she suddenly became aware of the accused reversing the wrong way on the dual carriageway.
"He collided with the offside of her car. This was seen by the witness who was in the central reservation. Both vehicles were moved off the carriageway.
"As a result of the collision the complainer's car had moderate damage. She could not open the driver's door and had to exit from the front passenger door.
"The other driver in the central reservation stopped to assist. He remarked to the accused that it was one of the most dangerous things he had ever seen."
Bruce said: "I had missed the junction. I thought it was clear."
He told the woman he collided with: "I was reversing as I had missed the junction and you ended up in my way."
Mr Kerr said he was unable to tell the court how far Bruce had reversed along the dual carriageway before striking the other car.
Sheriff Keith O'Mahoney deferred sentence so the Crown could find out that information from the investigating officer and he banned Bruce on an interim basis.
"This seems a sufficiently serious matter for me to call for reports," he said. "I want to establish precisely what distance was travelled in reverse."
Bruce had sentence deferred for social work and restriction of liberty order reports until next month.