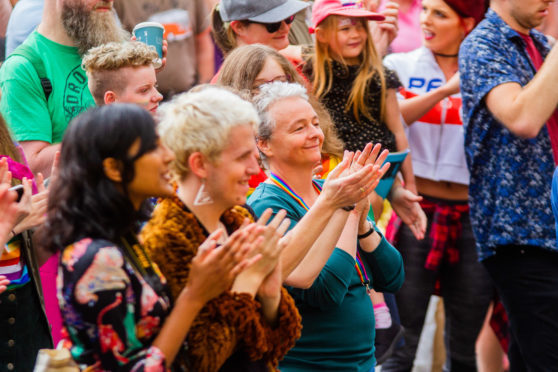 A new campaign aims to make Perth and Kinross one of the most LGBT+ friendly places in Scotland.
Businesses are being encouraged to show their support to the Pride community by displaying rainbow flag stickers in their windows.
The drive has been launched by the Perthshire Pride charity, spurred on by the success of its historic city centre gathering last summer.
The Rainbow Sticker scheme is a response to recent figures released by the Crown Office that show a 3% increase in sexual-orientated hate crimes across Scotland in the last year.
The local Pride organisation said it wants to let locals and visitors know the region is a safe place for all, and those who identify as part of the LGBT+ community will not face discrimination.
Perthshire Pride founder Claire Mackenzie said: "Perthshire has only recently started creating an environment that LGBT+ people feel safe and welcome to be openly out, we want to keep this momentum going and make Perthshire as open and accepting of anyone, if they are from a minority or not."
Claire said: "I really encourage local businesses to get involved, whether that be a hotel, bar, office, sole-trader, taxi driver or any other local organisation.
"The rainbow sticker is completely free, and we hope that the businesses participating will benefit from more LGBT+ custom too."
---
>> Keep up to date with the latest news with The Courier newsletter
---
The announcement comes as the city celebrates the 50th anniversary of the Stonewall riots in the US.
Charity Pink Saltire has set up a pop-up heritage hub at the council's Civic Hall on High Street. The event charts the history and achievements of gay rights campaigners since the late 1960s, when New York's gay community rose up against police harrassment. The incident is seen as a turning point in the fight for equality.
In August, Perth hosted its first Pride event, attracting hundreds of people to the city centre.
The Rev Scott Burton, of St Matthew's Church, made history by becoming the first kirk minister to open a Pride festival.
Kicking off a packed programme of music and speeches, he apologised for the church's historical treatment of the LGBT community.
"If you are LGBT, you know that the Church that I belong to has hurt you, again and again," he said.
In 2017, Perth and Kinross Council topped a survey of the country's local authorities for providing the most support during LGBT History Month.
The council's headquarters will be the first to display the sticker.
To order a rainbow sticker contact info@perthshirepride.com