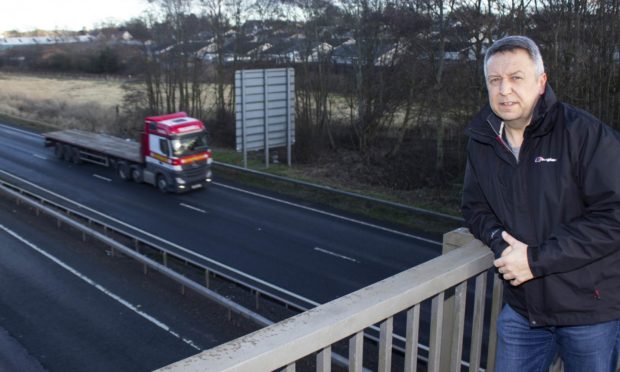 A fatal crash on the A90 has triggered calls for a safety review.
Minibus driver Joyce Gardiner was killed in a collision with a lorry near St Madoes in January.
The 60-year-old, from Scone, died at the scene, while the HGV driver and two bus passengers were rushed to hospital.
Transport Scotland is being pressed to consider action for the busy Perth to Dundee stretch.
Angus Forbes, Conservative councillor for Carse of Gowrie, has asked for a meeting with Scottish Government officials to discuss the state of the route and any safety measures that could be taken.
Woman, 60, dies after horror crash closes main road between Perth and Dundee
However, the trunk roads authority has said the route was reviewed with police chiefs last week, and they were satisfied the road lay-out was not a factor in the crash.
Mr Forbes said the route had a worryingly high accident rate. "I have had increasing concerns about the safety of this road, and after the horrific fatal accident just a few weeks ago I felt I needed to write to Hugh Gillies, director of trunk roads, and put this on his radar," he said.
"A quick look at the Crashmaps website tells me that there were 41 accidents on this road in the most recent five year-period, some of them fatalities.
"I think it's time to review the safety of this road and formulate a plan to improve it."
---
>> Keep up to date with the latest news with The Courier newsletter
---
Mr Forbes has also raised concerns about diversions that are put in place when the road is closed for emergencies.
"The other issue that came out of the most recent fatality was that drivers appear to ignore the signed diversion, which I believe was back to Dundee," he said. "Instead they used the C-class roads to the north of the A90 and one lorry became lodged in the middle of Rait village as a result. It had to be helped out by a group of residents."
Mr Forbes has asked Mr Gillies to consider making staff available in the event of an accident to prevent larger vehicles using smaller rural roads.
The route was shut for several hours after the crash on Wednesday, January 16.
A Transport Scotland spokesman said: ""Our sympathies remain with family and friends at this time.
"As police investigations into this accident are on-going it would be inappropriate to comment further at this time, however, as part of standard procedure we met with Police Scotland and our operating company on Friday, February 22 where it was confirmed that the road layout did not contribute to this tragic accident."
He added: "Road safety is of paramount importance to the Scottish Government and we assess the safety performance of the trunk road network on an annual basis, including the A90."
Police Scotland confirmed that a report would be submitted to the procurator fiscal following the tragedy.