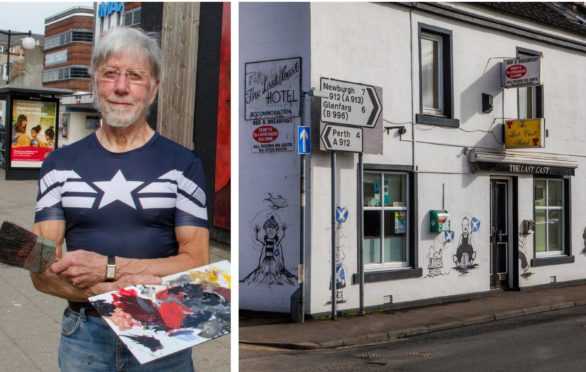 A Perthshire freelance muralist is heartbroken after being told enough is enough by a Bridge of Earn hotel.
The Last Cast Hotel on the village's Main Street has been Ian Imrie's canvas for the last month after he was commissioned to produce a mural on its exterior.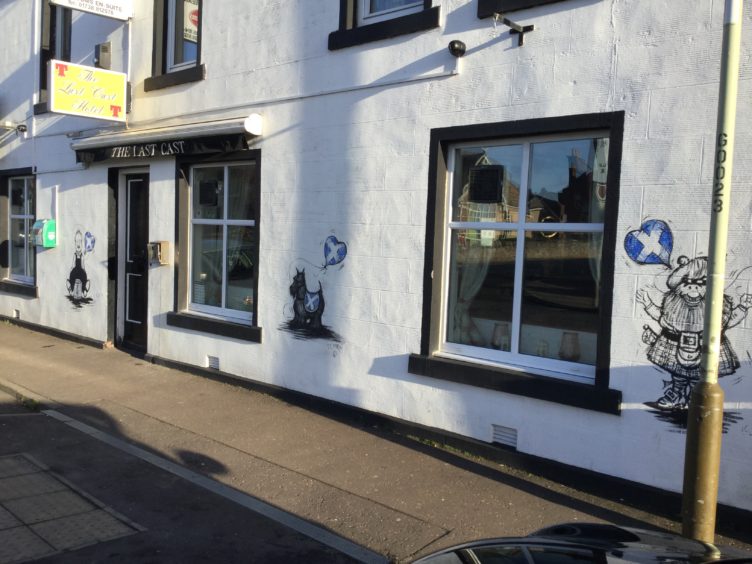 The village resident had painted Oor Wullie, Snoopy and Charlie Brown, a snowman, a man in a kilt and his trademark Scottie dog.
Ian said: "My plan was to turn the whole facade into one big mural, with The Broons looking down from the front first floor windows.
"I had permission from the owner to paint some well known characters and some of my own.
"I turned up on Sunday with scaffolding and was told I can't do anymore. It's not finished yet, and it would be daft to stop half way.
"I've had loads of positive feedback, even people saying that they've taken detours to pass the hotel. I don't understand why you wouldn't want it finished – from a commercial point of view, it increases footfall.
"People have told me they're thinking about starting a petition to get it finished. It brightens up.
"Not finishing the mural would absolutely be the worst case scenario."
Leaseholder David Morgan explained the building's owner is happy with what has been painted but does not want anything above street level.
He said: "Mr Imrie came back to do more with some scaffolding. We were happy with what was already there.
"The building owner has said that's enough though. We don't want scaffolding up at window height and it would mean closing off the footpath on Main Street."
80-year-old Imrie has made a name for himself in the Fair City after a number of his masterpieces appeared on listed building walls in Perth city centre without permission.
Perth painter hit with council bill for removal of Remembrance Day mural
An an art dealer for 50 years, he hit the headlines in 2017 when he produced five Armistice Day paintings which were displayed on a vennel between the High Street and Mill Street.
The "Bridge of Earn Banksy" was later was left with a clean-up bill for removing a Poppy-themed portrait from the side of the new Perth Theatre building, and was forced to take down his rock star murals which had been put up without permission in a nearby vennel.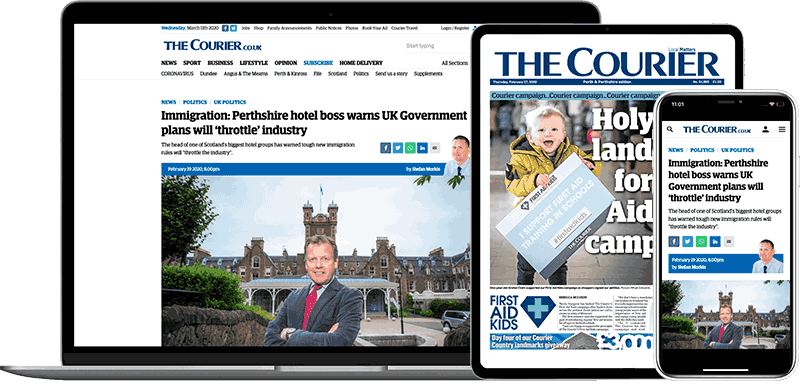 Help support quality local journalism … become a digital subscriber to The Courier
For as little as £5.99 a month you can access all of our content, including Premium articles.
Subscribe