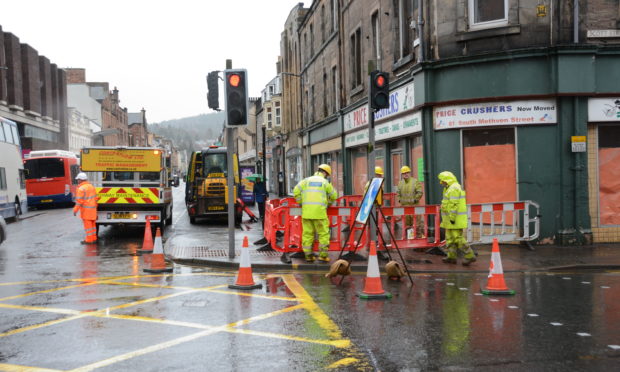 Businesses were plunged into darkness after an "underground fire" in Perth city centre.
Traffic lights on one of the city's busiest junctions were also affected after electricity company staff were forced to cut power to the area.
The  move caused traffic chaos as vehicles coming from three directions were forced to approach the junction with caution.
Further traffic problems were caused when falling masonry from a property in County Place resulted in a second fire service call out.
Firefighters were initially called to South Street shortly after 10.20am after smoke began to rise from a manhole cover.
An eyewitnesses described the incident as an "some kind of underground fire".
A spokesman for the fire service said they had to cordon off the area while they waited for the arrival of a power company.
The power cut hit dozens of businesses in the area.
Craig Evans, of Dr Noodles, said they had been forced to turn away customers after the outage hit.
He said: "There was a man in being served when it happened and we couldn't even open the till to give him a refund.
"My main concern is that we have food in the fridges and after a certain point it will need to be thrown out – I don't think we'll get to that point as we are ok for a few hours."
Thuong Vo, of Icon Nails, said they had also suffered a loss of custom.
He said: "We can't do any treatments right now – we've had to cancel all bookings. It will cost us money."
Power was restored after around four hours.
A spokesman for SSE said: ""At around 10:30 this morning we received reports from the local fire service of a fault on our underground electricity network on the corner of Scott Street and South Street.
"Our engineers immediately attended the fault, where the priority was to make sure that everything was safe, before starting  work to repair the fault and restore supplies.
"To ensure the safety of our staff working on the repairs, supplies in the South Street, Scott Street, County Place and Horners Lane areas of the city centre have been temporarily disconnected.  Our teams are working to complete the repairs as soon as possible and we expect to have all supplies restored by 4pm this afternoon.
"We would like to reassure our customers that faults of this nature are extremely rare and we would like to apologise to anyone affected for any inconvenience caused."