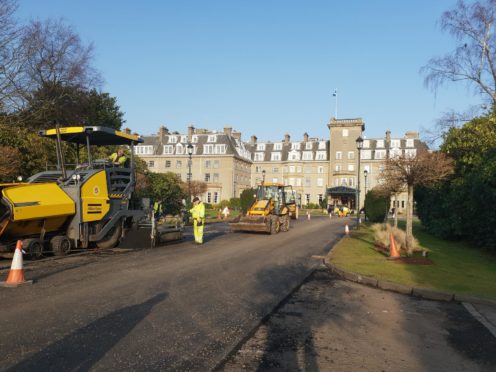 Roads across Perth and Kinross could be laid with non-recyclable plastic waste in the future after councillors said they were monitoring the new technology being trialled at Gleneagles Hotel.
Council Leader Murray Lyle said the local authority is looking at the product "very closely" after the Perthshire hotel resurfaced its driveways using the innovative product.
The road surface mix is produced by Scottish company MacRebur and could prove to have a positive impact on the environment as it reuses plastic that would otherwise have been sent to landfill.
Mr Lyle said: "It is on our radar.
"It's being trialled across different parts of the country. We haven't started using it yet but it's something we're looking at very closely. There's a lot of benefits if we can use it in our council.
"The roads that Gleneagles are using it on are not going to be used by as heavy traffic but I will be interested to see it when I next go past and we're keen to use it if it works."
The Perthshire branch of the Green party had previously written to the council leader asking  the local authority to trial it on their roads.
Elspeth Maclachlan, Perth City Green spokesperson, said: "This is a really important development.
"MacRebur  is to be congratulated in not just responding to the environmental concerns of the public but being innovative in its field.
"While, unfortunately, legal restrictions currently restrict its use on public roads to 6%, I have already written to the leader of Perth and Kinross Council Murray Lyle asking if they will be involved in trialling this in our areas as is already being done in other Scottish council areas."
Highland Perthshire Green spokesperson Mary McDougall said: "I am aware that MacRebur is in talks with supermarkets, hotels and private schools in the Highlands.
"If we have to use plastic then it must be recycled. What a great way of recycling it."
Gleneagles Hotel bosses said they had chosen to use the non-recyclable plastic to resurface their roads to help reduce their "impact on the world".
Conor O'Leary, general manager at Gleneagles, said: "We feel lucky to be based in one of the world's most beautiful rural locations, and are committed to working with our stakeholders to continue improving and establishing new ways of reducing our impact on the world around us.
"This includes resurfacing our main driveway with this material containing waste plastic which has used approximately four tonnes of plastic that might otherwise have gone to landfill."