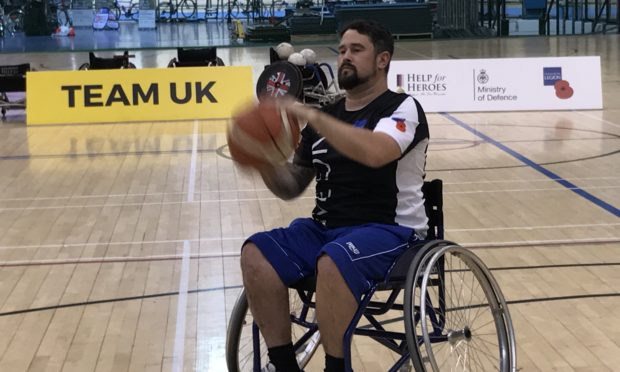 A soldier who was crushed under a bus in a horrific Perth city centre accident will be flying the flag for UK Armed Forces this summer at an Olympics-style event for wounded veterans.
John Willans, who was medically discharged from the Royal Engineers after the 2017 smash, has secured a place at the Warrior Games in Tampa, Florida.
The 36-year-old revealed he has also set his sights on the 2020 Invictus Games.
John, from Perth, was left with serious leg and knee injuries after the accident in Kinnoull Street.
It happened when he was on leave, following a six-month deployment in South Sudan as part of a UN peace-keeping mission.
Following three operations on his leg – which was crushed in 17 places – John spent six months in a wheelchair, and another six on crutches. Following his final operation in August last year, he can now walk with a stick while his rehabilitation continues.
Last year, Stagecoach bus driver Michael Munro appeared in court and admitted not paying attention while turning his number nine bus onto Kinnoull Street, pulling into the path of John's Harley Davidson motorcycle.
Perth Sheriff Court heard John took evasive action but struck the front of the coach and went underneath.
After the accident, father-of-two John – who served in Bosnia, Iraq and Afghanistan – got support from the charity Help For Heroes. He regularly attends the organisation's Band of Brothers peer support events in Scotland.
John plays wheelchair basketball and rugby with Dundee Dragons and recently travelled to Manchester to take part in a Team UK Invictus Games event organised by Help for Heroes, where he tried out seated volleyball for the first time.
He said: "Sport has been a massive help in my recovery. I have been trying new sports and adapting things I used to play before my accident to suit my situation now.
"It was also good to meet up with other people that are going through their own day-to-day challenge, to speak to them and not being judged by anyone."
John, who took part in the Allied Winter Sports Camp in Canada, will be competing in wheelchair basketball, rugby, tennis, seated volleyball and swimming at the Warrior Games in June.
He said he was "over the moon" to be selected. "To have the chance to compete in such an event is an honour and privilege, and I am looking forward to the challenge that lies ahead."
He added that he is aiming to compete in the 2020 Invictus Games, the multi-sport event created by Prince Harry for wounded, injured and sick armed services personnel.
Michael Munro, of Craigie Drive, Dundee, pled guilty to driving a bus without due care and attention and was fined £800.
He was not banned from driving and Stagecoach said he was subject to internal disciplinary procedurse and received retraining.
Sheriff Gillian Wade called the incident an "unfortunate accident with very serious consequences."