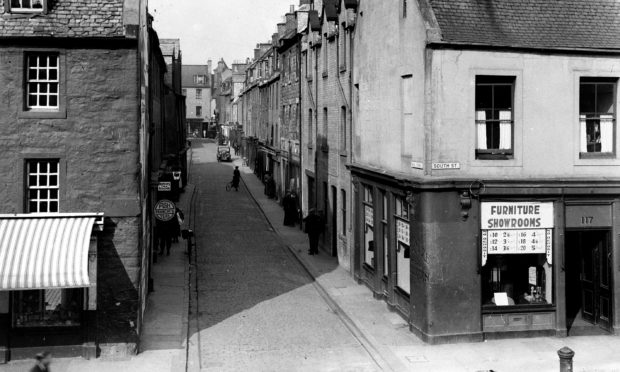 Ambitious plans to revitalise darkened corners of Perth city centre have been approved.
Superstar designer Wayne Hemingway inspired the move to breathe fresh life into the city's historic vennels.
Planning chiefs at Perth and Kinross Council have now rubber-stamped a radical proposal to transform a derelict bit of wasteground at the back of the High Street into a place for public performances, seating and even a pop-up cinema.
The area will complement a massive artwork earmarked for the side of the New Look building. Artists Elizabeth Ogilvie and Rob Page aim to illuminate the expansive brick wall with moving images of the River Tay.
The vennels project was welcomed by Andrea MacGregor-Barbour, town planner for Marks and Spencer, who said it will "improve the vitality of the area".
Planner John Williamson said: "The works are part of the extensive improvements and enhancements carried out on Mill Street over the last three years."
He said the improvements aim to "enhance the prospects for commercial development, to increase pedestrian and cycle accessibility and to provide additional space for events, markets and outdoor eating and drinking."
Mr Williamson added: "The scheme is integral to the vision to develop the city of Perth as the most desirable place in Scotland in which to live, work, visit and invest."
The plan – part of the council's Cultural Quarter project – involves new art installations, lighting and painted graphics on the ground.
The space will be mainly used for festivals and events such as Burns night, Chines New Year, the city's Medieval Fare and the Christmas Lights Switch-on, with occasional cinema nights.
Mr Williamson said the project will deliver an economic boost to the city centre, bringing extra footfall to local shops.
The project followed advice from style guru Hemingway, founder of FRed or Dead and a professor of built environment.
When he helped shaped Perth's bid for City of Culture, he called for a rethink of the historic vennels and alleyways that run through the city centre.
He said: "The Perth vennels provide ideal spaces and routes that can encourage people to explore the city, and offer serendipitous low cost spaces for art, events and pop-up retail."
The vennels project can play a powerful role in Perth's place brand."
Planning officers are still considering a bid for new infrastructure to support the mural project.