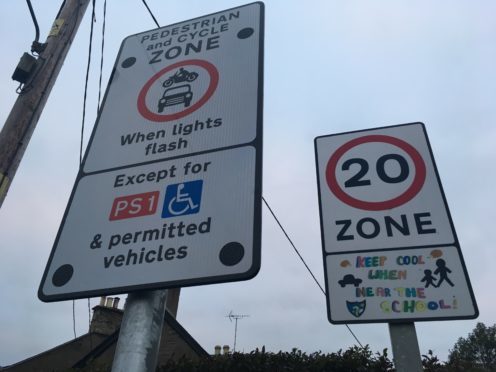 A trial ban on traffic at four local primary schools could be extended.
Exclusion zones were set up at Burrelton, Coupar Angus, Luncarty and Arngask, Glenfarg, in November 2016.
The move by Perth and Kinross Council aimed to cut down on vehicles around the school buildings, as pupils were walking to and from lessons at the start and end of the day.
Now, following the 18-month pilot scheme, councillors will be asked to retain each zone and consider setting up similar schemes at other schools.
A survey of neighbours found that 60% said the streets around their homes had been made safer and 64% had noticed a drop in traffic.
However, residents also noted traffic was displaced to surrounding streets, leading to more complaints about inappropriate parking.
It is proposed the zone at Arngask Primary should be extended to Greenbank Crescent, where there has been significant concerns.
A report to councillors suggests more work needs to be done at Coupar Angus, where there had not been a considerable drop in traffic or increase in children walking to school.
Project engineer Lachlan MacLean said 61% of parents questioned wanted the zones to be kept in place, while 72% said they should be introduced at other schools.
"There have been several comments about the lack of enforcement of the zones," he said. "The Traffic and Network team is working with Police Scotland to ensure that, in future, an appropriate level of enforcement is carried out and the zones are adhered to."
Councillors will be told that there had been confusion over permits issued to residents in and around the exclusion areas. The permits only allow drivers to enter the area, but not necessarily to park.
Mr MacLean also described the existing signs as "imposing" and suggested creating smaller ones if the project is rolled out to other parts of the region. The new signs are likely to include operational times.
Concerns were raised to The Courier last year that many parents were ignoring the exclusion zones, but escaping prosecution.
George Black, chairman of the Luncarty, Redgorton and Moneydie Community Council said in September: "I don't know of anybody who has been prosecuted for breaking the rules, so if people know they won't be punished they will keep doing it."