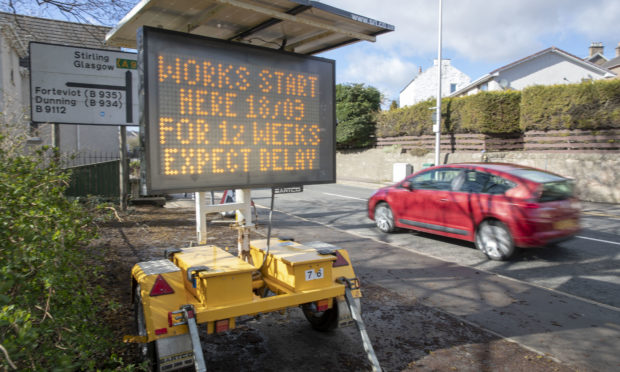 Businesses are bracing themselves for another three months of delays as road works restart on a key route into Perth city centre.
The installation of two sets of traffic lights on Glasgow Road at Cherrybank will start again on Monday after the council and house builder Persimmon appointed Tayside Contracts to do the work.
Council officials pulled the previous contractor off the job and banned it from public contracts in the city after complaints over poor quality workmanship.
Local businesses – facing 12 more weeks of congestion and delay – said the council "shouldn't pat itself on the back" for taking action and questioned whether the traffic lights were even necessary.
James Storrar, owner of the Cherrybank Garage, said: "It was a disaster before and it is going to be a disaster again but there's nothing you can do about it – it's just a fact of life.
"The works have had a big impact but it's hard to say, financially, how big. People can't get near to drop off their cars and they can't get near to pick them back up again.
"Sometimes the traffic is queued all the way up to Broxden roundabout."
Council planners requested the traffic lights in 2015, as well as other works including landscaping and upgrading footpaths, as conditions for granting planning permission for 100 properties on the site of the former Bell's Scotch Whisky headquarters.
The work was supposed to be finished before residents moved into the houses, which have been complete for some time.
Councillor Willie Wilson, Perth City South, Liberal Democrats, said: "The work prior to Christmas was totally shambolic. The contractor clearly didn't have the full set of skills to tackle the job properly and Persimmons failed miserably to monitor their work.
"As a result, the council have had to step in and take over responsibility themselves and have the work inspected and costed and appoint a new contractor themselves.
"Tayside Contracts have been successful in getting the contract and Persimmons have agreed to meet the additional costs [of the process] in total."
He said he was "acutely aware" finishing the job could take up to 12 more weeks.
"This is really disappointing but we need to get it right this time. The work will be closely supervised by council staff and it is hoped to minimise the amount of time the temporary traffic lights will be in operation.
"Local businesses such as the Cherrybank Garage will no doubt be affected. We will, however, do everything we can to keep the disruption to a minimum."
A council spokesperson said: "The roadworks in Cherrybank, Perth, will begin on Monday March 18 for a period of 12 weeks. Tayside Contracts will be carrying out the works. The contractors were selected by the house builder in conjunction with Perth and Kinross Council."
A spokesperson for Persimmon Homes North Scotland confirmed discussions with the council are ongoing.