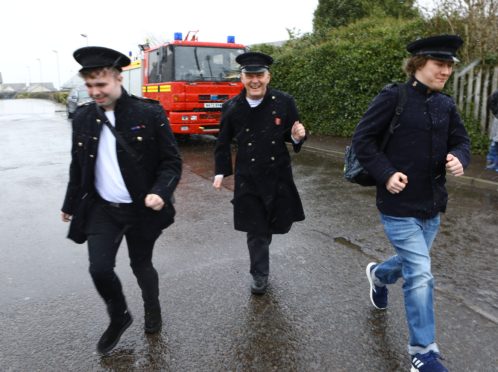 A team of prison breakers swapped snow-bound Perth for the Andalucian sunshine at the weekend.
For the 17th year, teams "escaped" from Perth Prison in fancy dress as part of Dundee Grey Lodge Settlement's annual jailbreak.
"Inmates" spent an hour at Her Majesty's pleasure before getting as far away as possible in 15 hours without using any of their own money.
Eight teams took part and Ulla Gingule and Vicky Bombas from Perth and Alice Ritchie, from Orkney, managed to escape the snow and get as far as Malaga in Spain.
Alice said: "We got to Edinburgh and flew to London and on to Malaga thanks to the generosity of friends and family.
"The challenge of going the furthest without spending a penny while raising money for good causes is what makes it amazing."
Other teams ended up across Scotland during the event, which is expected to raise thousands for the Grey Lodge Settlement and its chosen good cause for this year, Dundee Junior Showtime.
Grey Lodge Settlement CEO Alan Duncan, Connor McDade and Levon Anderson got to Aberdeen which included making a getaway through Laurencekirk on a 1995 Dennis fire engine.
Alan said more than £200,000 has already been raised as a result of the annual event which has seen teams get as far as Gran Canaria and even Columbus, Ohio, in previous years.
He said of Saturday's break-out: "That was without doubt the worst weather we've ever experienced but everyone fought against the elements and made it one of the best ever.
"Caring and sharing is not what it was some 20 or 30 years ago but events like this restore my faith.
"The number of people who give their time, services and money absolutely keeps my enthusiasm going and I'm proud of those people for caring about more than themselves. That is the way we are going to solve some of our problems."
Alan said he was "so happy" Dundee Junior Showtime and "the wonderful Margaret Mather" would benefit from the fundraising event.
The fundraiser has led to some embarrassing mix-ups for some competitors over the years.
In 2012 a team travelled to London's Imperial Museum in fancy dress and masks and were apprehended by security guards who thought they were there to disrupt the Olympic Games.
They were forced to contact Mr Duncan, who managed to assure security of their authenticity
The winning jailbreakers will receive their trophies later this year.
Grey Lodge Settlement, based in the Hilltown, is a youth and community-based charity organisation promoting leisure, learning and local action.
The charity relies heavily on its own fundraising efforts to continue operating.