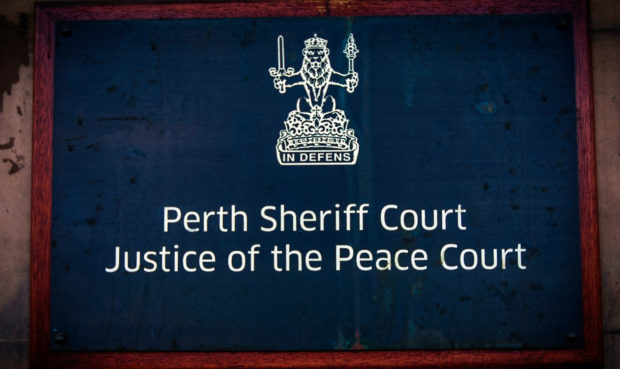 A gamekeeper accused of taking revenge on his millionaire ex-boss by poisoning crops during late night raids has failed in a bid to have the case thrown out.
David Campbell's solicitor claimed he had no case to answer in relation to the poisoning of crops at a sprawling shooting estate in Perthshire.
Solicitor David Holmes, defending, said there was a lack of evidence to show that his client was the person featured in the captured CCTV images.
However, Sheriff Gillian Wade rejected the bid and said the court had been presented with enough evidence to let the Crown continue with its prosecution.
Perth Sheriff Court was told that Campbell was heard making sinister threats about what would happen to the shooting estate after he was dumped by wealthy Michael Campbell.
A witness described how David Campbell made the remarks to him at a drinks party some time before game crops were sabotaged on the estate.
Donnie Calder, 44, said: "The new gamekeeper had been appointed. David said 'as long as he had breath in his body, game crops would not be grown at Edradynate estate.'
"I didn't really think much of it. David was bitter. He didn't want to leave his employment as he enjoyed his job. He was quite calm. It was a matter of fact thing."
Mr Calder told the trial at Perth Sheriff Court that he was called to the estate some time later to look at damage which had been done to a section of game crop.
He said: "The game crops looked like they had been sprayed with a weed killer of some description. I was asked to look at them with the new keeper.
"The crops were dead. They didn't die of natural causes – something had been used to kill them."
The trial has heard how Campbell had been employed as head gamekeeper on the 4,000 acre Perthshire estate for many years by financier Michael Campbell.
The estate owner said their relationship had broken down after a number of disagreements and Campbell, 69, was replaced as head gamekeeper.
He said covert CCTV footage taken at the scene of the damage crops showed a mystery person making a series of 2 am raids to spray the crops.
Mr Campbell, 76, said he was sure the man in the surveillance video was David Campbell, because he was recognizable by his "mutton chop" sideburns.
Farmer Andrew Kennedy, 62, said he was aware that the accused was "upset" about having to leave his job. "He had worked there for a long, long time and he was aware it was coming to an end, probably a career end."
The estate's new head gamekeeper, Ian Smith, told the trial that the area was one of the best on the estate, and that the damage would have cost "thousands."
He told the court that the covert CCTV footage showed a "small" person in a white boiler suit spraying the crops with a backpack sprayer. He said the person – filmed during the early hours on two days – appeared to be wearing a head torch and was sporting a hood or mask.
"There were certain issues which started arising where I became critical and David, bless his cotton socks, does not like criticism," Michael Campbell said.
"The quality of the shoot started deteriorating and everything started collapsing really. There was severe antagonism. He treated me with disdain."
Campbell, Crieff Road, Strathtay, denies that between 14 and 16 April 2017 at Edradynate Estate he maliciously damaged game crops by spraying them with an unknown substance which caused them to rot and perish.
The trial, before Sheriff Gillian Wade, continues.