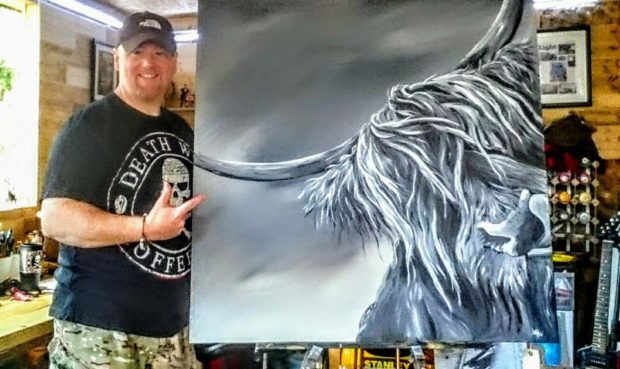 A Perthshire artist was forced to report McCoo painter Steven Brown to the police after claiming he threatened him and accused him of plagiarism.
Aaron de la Haye, of Bankfoot, said he was sent threatening messages over social media and Ebay by well-known Scottish artist Brown who believed the Perthshire painter had ripped off his famous multi-coloured Highland cow pieces.
The Bankfoot artist says the disagreement harks back to a painting and print he created around 2013 of a multi-coloured Highland cow but he has never received any official complaints from Mr Brown – only abusive messages online.
Mr de la Haye said: "I've never been sent anything official, never a cease and desist letter.
"It's because he has nothing against me and he knows it.
"I started doing it years ago – the first one I did was because of someone's hair , they had multi-coloured hair. It's just a multi-coloured cow."
Mr de la Haye said the spat started when Mr Brown first accused him of plagiarism but after the initial contact, he heard nothing more until a few weeks ago when the painter started sending him messages online.
He reported the matter to police and made a formal complaint.
He said: "If he'd sent (them) to someone else, I could quite imagine that it could cause alarm.
"If that had gone to say some wee art student, who knows how much a message like that could intimidate them."
After reporting the Ayrshire-based artist to the police, Mr de la Haye says he received an apology from Mr Brown using the same online channels which said: "Aaron I never wanted to have this struggle with you ever.
"It seems as if you just don't like me and nothing will ever change that, sadly. That's okay, it happens. Found a few folks copying me on Saturday.
"So I'm sorry for they silly messages I sent. Apologies Aaron, that's just not me."
Police Scotland said no formal action has been taken as a result of the comments.
A Police Scotland spokesperson said: "We received a complaint regarding online comments.
"This was investigated and no formal action was taken."
Steven Brown was contacted for comment but did not respond.