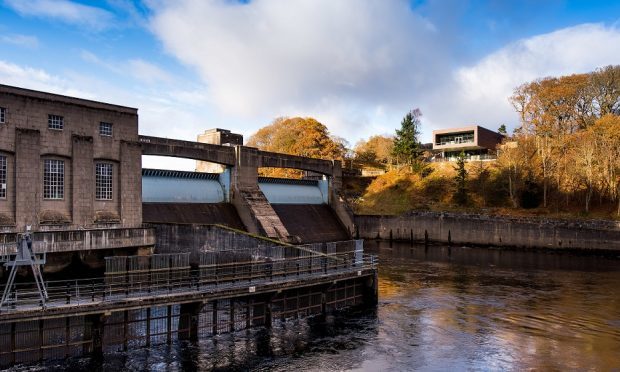 The salmon observation chamber at Pitlochry Visitor Centre is to close amidst safety fears, SSE has announced.
The fish ladder's viewing chamber does not meet the energy giant's stringent safety rules so the firm has decided to close the popular Pitlochry viewpoint permanently.
However, SSE has confirmed it will be developing new viewing arrangements.
A spokesperson said: "For over 60 years, the Pitlochry Dam fish ladder observation chamber has been an important part of the Pitlochry community, allowing locals and tourists alike to view salmon on their journey upstream.
"After six decades of service, the design, location and access to the fish ladder observation chamber is no longer in line with SSE's strict safety standards and so, we have made the difficult decision to close the observation chamber permanently to ensure the safety of members of the public.
"We recognise the importance of the observation chamber to the local community and work is already under way to develop a new viewing arrangement for the fish ladder to help bring it up to the same standard as SSE's Pitlochry Dam Visitor Centre, which has welcomed over 300,000 visitors since it first opened in 2017.
"Whilst work continues to develop this new viewing arrangement, the fish count and live footage from the fish pass will be available in the visitor centre, which is open seven days a week."
Jerry Williamson, SSE Renewables director of operations, said: "Safety is our number one value at SSE and, although this is the end of an era for the observation chamber, it's just the start of our work to develop a new viewing arrangement for the fish ladder.
"We are very grateful to the local community for their continued support of the new Pitlochry Dam Visitor Centre and recent reinstatement of the Pitlochry Dam path and hope that future work in the area will help show just how committed we are to Pitlochry's tourist economy.
"We are looking forward to working with key local stakeholders to ensure the long-term sustainability and wide enjoyment of SSE's Pitlochry Dam visitor offering."
The observation chamber has long been a Pitlochry tourism focal point, allowing visitors to view fish travelling through the dammed River Tummel on their migrations.
A counter beside the viewing area showed how many salmon had passed through that season.
Depute First Minister John Swinney said: "Whilst it is regrettable that this much-loved visitor attraction is to close, I share SSE's view that public safety must always be the number one priority.
"Ensuring that visitors still have access to a viewing arrangement is vital. I am therefore pleased that work is underway to create a replacement facility and it is my hope that this will be completed timeously."
Highland ward councillor Mike Williamson said: "I too think that it is regrettable that the facility has to close, but safety is paramount.
"It is encouraging to see that visitors to the centre will still be able to view the fish ladder and that SSE are looking into the development of the facility, which I am looking forward to seeing."