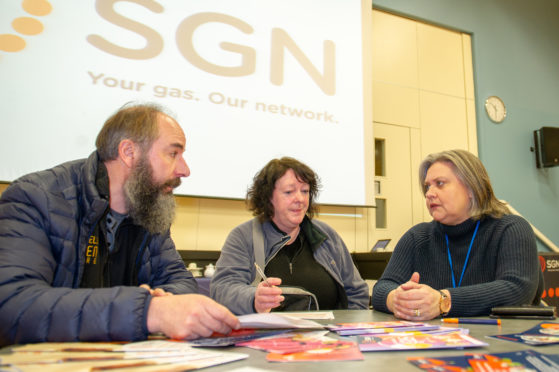 Concerns have been raised about the timing of a second consultation into the proposed eight-week gas works set to be carried out in Crieff.
The controversial works by SGN could see the vital Crieff to Muthill road shut down for two months with businesses and residents fearing the closure will have a huge effect on the Perthshire town's tourist trade.
SGN has now set a second consultation date to detail their revised plans but fears have been expressed about the timing of the new consultation, which falls mainly during working hours on a weekday.
The consultation was initially due to take place on Tuesday April 9 from 9am to 4pm, though SGN has confirmed that it has now extended the meeting to 7pm.
Roseanna Cunningham MSP said the gas company risks raising suspicions it is trying to minimise turnout for the event.
Ms Cunningham said: "I know that there is a great deal of concern and interest in this matter – the public meeting I hosted was standing room only – and little wonder, there is the prospect of very serious disruption to residents and businesses.
"So it is absolutely right that SGN come back to the Crieff community with an update of their plans regarding the works required associated with replacement of the gas main but the date and time that they have chosen is not at all helpful.
---
>> Keep up to date with the latest news with The Courier newsletter
---
"It is during the day, on a weekday, so many people – including those with businesses in the area – will be at work and it is in the school holidays when there is the likelihood that families will be going away.
"I am not suggesting that it was in any way intentional but there will be a suspicion that attempts have been made to minimise the potential turnout for this follow up meeting.
"I really think SGN should think again and look at holding a second session at a different time."
Plans for the roadworks, originally rumoured to begin this summer, were put on hold last month following the community backlash  and an initial two-day consultation was held over a Friday and Saturday last month.
Katie Lobban, spokesperson for SGN, said: "As promised, we're holding a follow up drop-in session for the local community, to update them on our plans for the gas mains upgrade work in Crieff.
"After listening to concerns of the local community, multiple sessions will be held throughout the day at 11am, 1pm, 3pm and 6pm  in the Strathearn Community Campus where we'll be between 11am and 7pm.
"We appreciate everyone's continued support and understanding, and welcome any feedback which will help us in the planning stages of our project."
Luke Graham MP said: "It's good to see SGN working with the local community.
"It is important they get their voices heard, and I would encourage anyone from the community to go and voice their views."