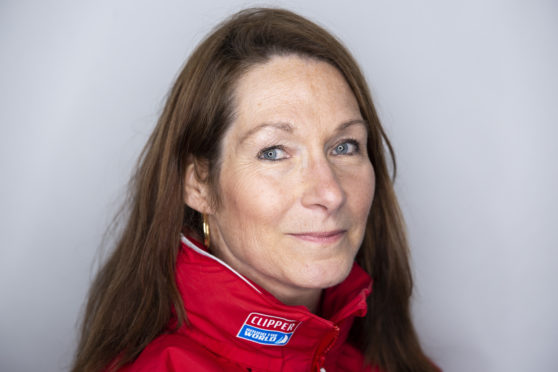 A Perth woman has teamed up with her daughter for an intercontinental sailing adventure after battling to beat breast cancer twice.
Melanie Morris, a managing director from the Fair City, has beaten the disease not once but twice, and is set to take on one of the biggest challenges on the planet to mark her and her daughter's milestone birthdays this summer.
Melanie will turn 60 in March next year and daughter Jasmine, a designer, will be 30 in February and the pair are celebrating by taking on the Clipper Race together.
The race, which takes almost 12 months to complete, sees entrants sail 40,000 nautical miles around the globe and the Fair City pair will be traversing the Atlantic and part of the Pacific Oceans en route.
Both Melanie and Jasmine are taking on two of the eight legs that make up the global Clipper Race – Leg Five from eastern Australia, across the equator and into Asia, and Leg Eight, the homecoming leg from the east coast of USA to England.
The duo started sailing together in 2000 and decided that the 2019-20 edition of the race was right for them after cheering the fleet into Liverpool at Race Finish last year.
Melanie said:"It has been great fun doing the training. I live in Scotland and Jasmine lives in London so it is just nice to have time together.
"We both have a long term goal of being better sailors, more confident and competent, and we just see how the Clipper Race is already helping us to do that.
"I'm so proud of Jasmine as well because it hasn't been easy for her with all the situations that have been going on and I just think it is an amazing thing.
"We always underestimate our capabilities. My experience is that people think they cannot do things but for me, I believe that you can.
"Even if you have difficulties in life, sometimes I think by setting yourself a challenge, to really do something that your heart desires, everything is possible.
"This is a celebration of 30 years old and 60 years old respectively, and surviving breast cancer twice over – it's just saying live your life."
Jasmine added: "My mum has had breast cancer twice. I was eight years old when she got  diagnosed the first time and we almost lost her.
"That she is able to do this, she will be 60 years old, she's a single mum, got through breast cancer both times and fought hard to be here for me and my brother – I'm just so proud of her."