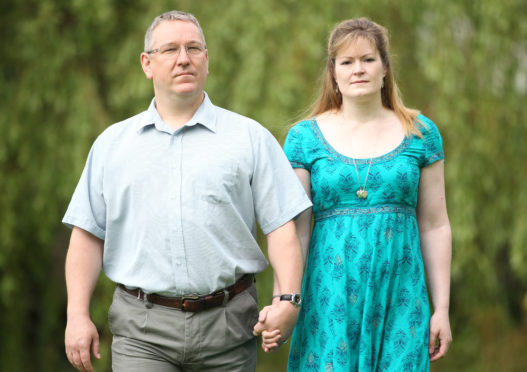 The family of a toddler who died in a tragic blind cord accident have been dealt another blow after her father was found dead.
Angus McLaughlin, 50, was found dead in his family home in Menstrie on March 16.
The former NHS radiographer had suffered from post traumatic stress disorder since his daughter, Muireann, died in a horrific accident 11 years ago.
The two-year-old became entangled with the looped cord of a roller blind after tripping in her Clackmannanshire home in 2008, and despite Angus's extensive CPR efforts, she was unable to be saved.
Following the tragic incident, the family have battled with rumbling legal disputes.
The family told The Courier in 2013 that many European countries don't use the type of blinds which Muireann choked on, leading Angus and his family to start an arduous campaign to outlaw their use in the UK.
Speaking previously, Angus said: "It has left a huge hole in our family. [Muireann's brother and sister] Cian and Aoife still have vivid memories of the day. It has really affected them.
"There is no getting over it, really. Some days even getting out of bed is difficult, it put a strain on our marriage. We are still trying to get it all together."
However, this and an ongoing battle with solicitors  over compensation that the family became embroiled in, took its toll on Mr McLaughlin, who had recently started work at a private hospital in Glasgow.
Mr McLaughlin's wife Katie said: "It was hard to get Angus to seek help. He was having nightmares and flashbacks and wasn't in a good place.
"Angus felt he should have been able to save her, even though a Fatal Accident Inquiry absolved him of any blame."