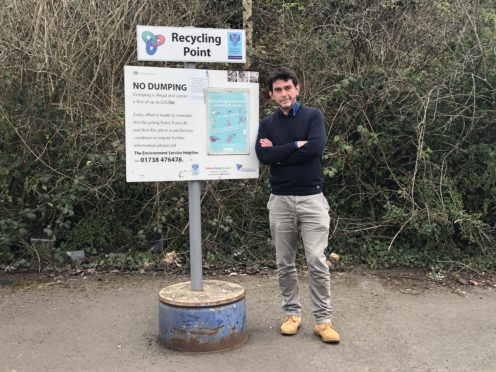 Perth and Kinross Council has come under fire after removing a well-used recycling centre in Scone without notifying locals.
Residents have been turning up at The Wheel Inn with rubbish all week, unaware that the bins have been taken away.
Scone and District Community Council's Vanessa Shand said the group had been informed that the bins were removed last Wednesday, due to the redevelopment of the Wheel Inn.
She said:"It was a very well used by people from Scone and the surrounding areas, so we brought it up at our community council meeting on Monday.
"The councillors didn't know, and the message we've had back since is to use the mini bins elsewhere in Scone. These are much smaller and only for glass – the old ones had clothing, paper, cardboard and others.
"We absolutely want to see it replaced," she added.
"This is yet another loss to the community and it's really disappointing that we weren't informed. The council want us to recycle, but then they ask us to travel further to do so."
Strathmore Conservative councillor Colin Stewart said: "While most people in the village knew that this recycling point was going to have to move following the closure of the Wheel Inn, it's not acceptable that it had to be removed without any prior warning to the community.
"The only recycling points left in the village are for glass and, at present, local people now have nowhere nearby to recycle their textiles and electrical equipment and any excess cans, paper and card that they don't have room for in their blue-lidded bins.
"I immediately wrote to the director of the housing and environment service to register my concerns, and I'm pleased to say that council staff are keen to work with local people to find another location in the village as soon as possible."
He said Scone residents had previously had the best used electrical recycling point in the whole of Perth and Kinross.
Perth and Kinross Council was approached for comment.
An application to turn the former Wheel Inn into 51 retirement flats was approved by the council last month – despite developers admitting there is no guarantee the properties will be purchased by retired people.
Fraser Lynes, of developers Juniper Residential, said the firm was responding to a shortage of purpose-built homes to meet the specific needs of older people.