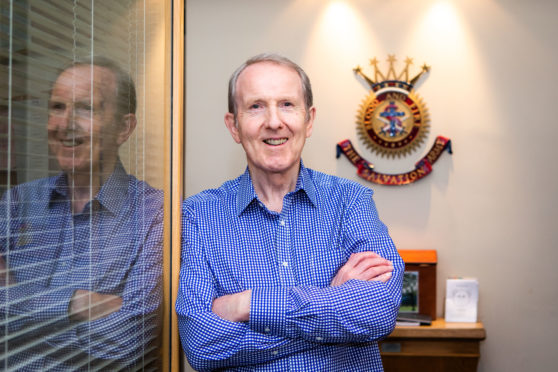 A stroke survivor will appeal to people to get their blood pressure checked at an action day in Perth he hopes will help save lives.
Brian Raine, 72, is helping host the Know Your Blood Pressure event at the Salvation Army store in South Street in the city with the help of the Stroke Association and the Perth and Kinnoull Rotary Club.
Brian suffered a stroke in 2011 aged 65. He  has spent the last seven years rebuilding his life and now wants to get the message out to others to get themselves checked.
Brian said: "We would like to get as many people as possible to the open day because half of strokes can be caused by high blood pressure and this is a quick check to prevent that.
"Somebody has a stroke every five minutes in the UK so the possibility of having a stroke is very high."
The retired head teacher of the Queen Victoria School in Dunblane had his stroke on April 6 2011.
Brian said: "In retirement I thought life would be easy but was proved wrong.
"As usual, I had walked down Lochy Brae to the Bridgend newsagents at around 6.30am and felt a little dizzy."
The newsagent helped Brian and made him lie down and rang an ambulance.
Brian said: "Fast action obviously saved the day.
"There is a little card and leaflet, produced by the Stroke Association, which I am illustrating and states F for facial, A for arm, S for speech and T for time – time to call 999.
"The stroke affected the left side of my brain – one of my carotid arteries was totally blocked and the other was 60% blocked.
"The consultant told my wife that it was too dangerous to operate, so I am now dependant on medication
"I was in Perth Royal Infirmary for over three weeks and was unable to speak, write or read and was diagnosed as having aphasia."
Brian's recovery as been going well and he is now working as a volunteer at the social and communication stroke group –  part of Chest, Heart & Stroke Scotland.
Andrea Cail, director in Scotland at the Stroke Association, said: "High blood pressure often has no symptoms, and is much more common than people think.
"That's why we are urging as many residents in and around Perth to take a moment and have their blood pressure checked on April 6.
"A blood pressure check only takes a moment, and it's such a simple way to reduce your risk of a stroke."
The drop-in event will take place on Saturday at the Salvation Army shop between 10am and 2pm.