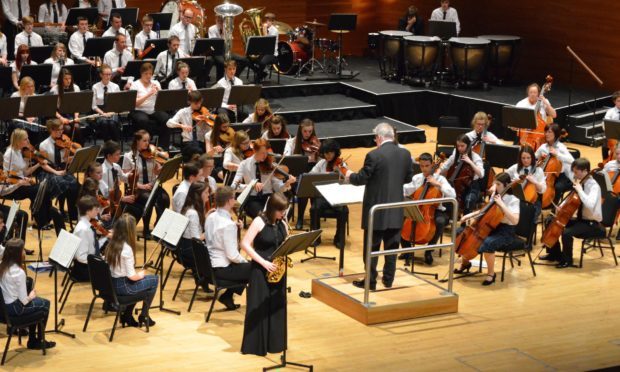 Bungling council bosses are reassuring parents and carers music lesson fees are not going up in Perth and Kinross, despite mistakenly voting to hike prices by 20%.
The Conservative and Liberal Democrat administration has been branded "incompetent" after it emerged they failed to remove controversial price hikes passed in the previous year's budget despite pledging this year not to put up prices.
The mistake only came to light after a Kinross parent noticed the higher annual charges on the council's website and leaves a hole in the local authority's budget understood to be around £100,000.
Council leader Murray Lyle, Conservative, has now moved to assure parents and carers there will be no price increase for the rest of the council term, but he needs either agreement from the SNP group or to wait six months to bring about the change.
A council spokesperson confirmed the administration intended to cancel the increase, but until they found a way to do so the increased charge of £354 per year would remain as the official position.
Opposition councillor and SNP group leader, Dave Doogan, said: "Make no mistake the price increase they are now seeking to reverse was their own price rise.
"What we see now is a lame duck administration trying, too late, to get their budget to align with their rhetoric."
He said councillors were now "scrambling around trying to find the money to reverse their own decision".
"This is totally shambolic and demonstrates this incompetent administration are a now a total embarrassment to Perth and Kinross," he added.
In 2018 councillors agreed to save £150,000 over three years by introducing 20% annual increases to fees between 2018 and 2020.
The 2018 price increase, saving the council £50,000, has already been made.
Mr Lyle said the situation had come about as the result of a "genuine mistake" and the administration were trying to do the right thing in remedying it.
He promised no family would pay any more than they did in 2018 for school music lessons.
He said: "We are discussing with officers the necessary processes requiring council agreement to ensure that the previously agreed increase to the Instrumental Music Service (IMS) charge for the coming school year is not passed on to parents and carers.
"It is also my intention that there will be no further increases to charges for the period of this council term.
"Funds will be identified to cover the costs from elsewhere in the budget and details will be brought forward to a future meeting of the council."
Andrew Mitchell, Perth and Kinross Music Foundation vice-chairman, said they became aware of the issue shortly after the budget passed.
He said he was confident the administration would find a way to reverse the increase.
"With the Perth Youth Orchestra annual concert on Friday (April 5) this is a big week for music in Perth," he added.
"We are delighted to have received a clarification that fees will not increase."