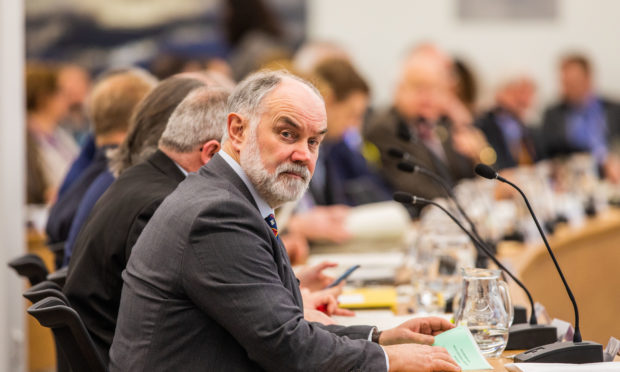 The leader of Perth and Kinross Council has insisted there was no intention to deceive the public after a budget blunder led to a shock increase in music tuition fees.
Murray Lyle pledged to redraw the authority's spending plan after a 20% rise in instrumental lesson fees was voted through by error.
But his view that this was down to a "genuine mistake" and a "misunderstanding" has been questioned by the region's Labour councillor Alisdair Bailey, who claimed Mr Lyle spoke to him and his colleagues about the fee increase – approved in 2018 – during recess at February's budget meeting.
"Councillor Lyle, accompanied by a senior council officer, came into the room where we Labour and Independent group councillors were taking stock and preparing for the vote," he said.
"They gave us a helpful and friendly reminder that since the base budget (adopted last year) included the 20% price hike for this year, it would take effect unless the current budget allocated funds to reverse it."
---
>> Keep up to date with the latest news with The Courier newsletter
---
Mr Bailey said there was "ample opportunity" for Mr Lyle to return to the chamber with a revised budget, removing the 20% hike that was approved in 2018.
Mr Bailey said: "At the very least, Councillor Lyle knowingly voted this through in the full knowledge that the impact would be two further 20% price hikes.
"I find it totally unacceptable that Councillor Lyle has chosen to take this route of knowingly voting one way and then putting it down to a misunderstanding after the fact.
"In Perth and Kinross we now have our own mini Tory-led coalition of chaos where members are voting through price hikes and only realising what they voted for some five weeks down the line when the bills start to drop on residents' doormats."
Mr Lyle responded on Monday: "It's true that I did speak to them at this time, but this was a genuine misunderstanding. These things happen.
"I find it very disappointing that there appears to be a suggestion there was some sort of deceit going on. That's just nonsense.
"I'm disappointed in Councillor Bailey and his interpretation of what happened."
Mr Lyle said he was aware at the time that the administration's spending plan did not cancel out the increase in music lessons costs. "We didn't resolve how we were going to do this at the time," he said. "We didn't want to do something in a muddle in five minutes on the day and we said we would come back to it at a later date."
He added: "We are actually trying to benefit the kids who are most in need. We have even set up a fund for those families who are not able to afford access to these lessons."