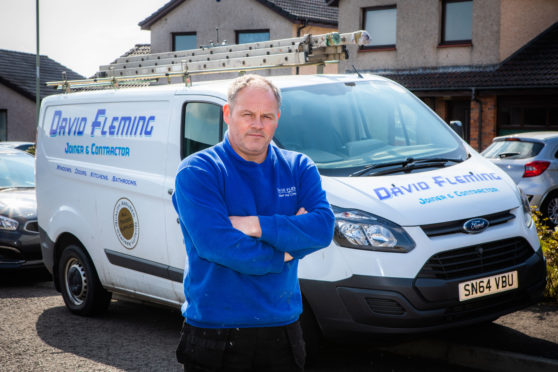 Small businesses in Perth are thousands of pounds out of pocket and unable to work after a spate of tool thefts from tradesmen's vans.
In a single night at least five vans were broken into in the city, with at least six other tool thefts reported since the start of the month.
Police say they are not ruling out a link between the five incidents, which took place overnight on Wednesday and into Thursday morning.
The vehicles were targeted in Moulin Crescent, Dryburgh Crescent, Viewlands Road West, Dunsinane Drive and Lammermuir Gardens.
Joiner David Fleming was one of the victims and says the loss of his tools will hit him in the pocket as he may lose work, as well as the cost of replacing his equipment.
His van was parked outside his house on Lammermuir Gardens when it was broken into.
He said: "I went to bed between midnight and 12.30am.
"I woke up and went out to move the van at about 7am. The warning light came on to say the passenger door was open and when I went round that side I saw boxes were missing.
"They took about £3,500 of tools out of my van – until I can get them replaced that's me. I'm in the middle of a couple of jobs right now and I have no tools to do the work.
"It is going to affect my business – I'll be behind with work and it will be next week before I can buy new tools.
"I'm going to have to phone customers to tell them and hope it will be all right but I could lose a couple of jobs over this. I may lose around £1,000 in wages, in addition to the cost of the tools."
Fellow joiner David Bruce, whose vehicle was targeted on Viewlands Road West, said the loss of tools is a big blow to a small business.
He said: "I have lost work because I haven't been able to do anything since – I'm trying to get new tools to get myself going again.
"It wasn't just power tools they took, it was all my hand tools that I use day to day."
A spokesman for Police Scotland said: "We are investigating a number of thefts of power tools and similar items from five vans at separate locations in Perth overnight on April 10 and 11.
"Enquiries are at a very early stage and while it is not possible at this stage to determine if they are linked, this could potentially be the case.
"If anyone in the Perth area owns a van, please check it, and contact us if anything is amiss."
Crimes can be reported by calling 101 or Crimestoppers anonymously on 0800 555 111.