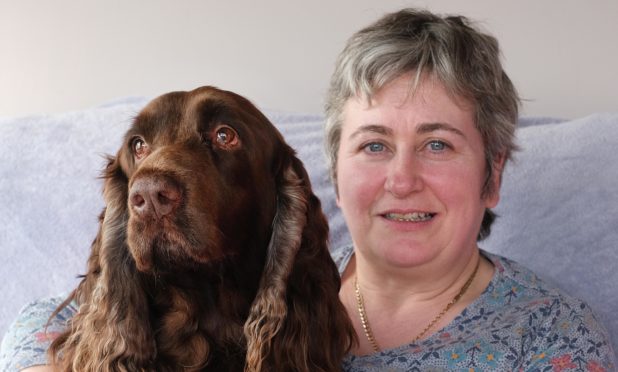 A champion dog owner has urged wild campers to bury their waste after her beloved spaniel nearly died after eating human faeces believed to be laced with cannabis.
Pitlochry dog owner Anne Menzies, 53, was told Crufts winner and "heart and soul of our family" Reuben collapsed after being poisoned, which vets said was most likely by the class B drug.
Anne said the field spaniel had eaten uncovered faeces from two female wild campers near Loch Dunmore hours before collapsing earlier this month.
She said: "I have got nothing against people doing what they want to do, but for heaven's sake bury your waste."
She said the girls had been camping at the beauty spot for five days without proper toilet facilities.
"Dog owners are going to get fined for leaving dog waste, so I don't see why people should be able to do their business in the woods without cleaning it up.
"Not all wild campers are like that but what they did was bang out of order."
Anne rushed nine-year-old Reuben to the vet in Pitlochry as soon as she realised something was wrong.
She said the Crufts 2013 Best of Breed winner was like a "nodding dog toy" as he struggled to hold his head upright.
"He was so out of it that the vet had to hit him to try and wake him up. He collapsed on the floor and the vet had to use a thermometer to bring him round," she added.
"I just thought we were going to lose him. I said to myself if he is going to die then I wanted him to die beside us."
The vet fed the dog activated charcoal to remove toxins from his blood. Anne then drove her pet to the Royal Dick School of Veterinary Studies in Edinburgh, where experts told her the dog was most likely suffering from cannabis poisoning.
"It was awful to see, he was such a poor boy, but he's doing okay now, thankfully. I'm scared to go into the vet and find out how much it cost.
"I would do anything for him and he's insured but that's not the point. This didn't have to happen.
"If people had taken a little more care then my dog wouldn't have been injured in this way."