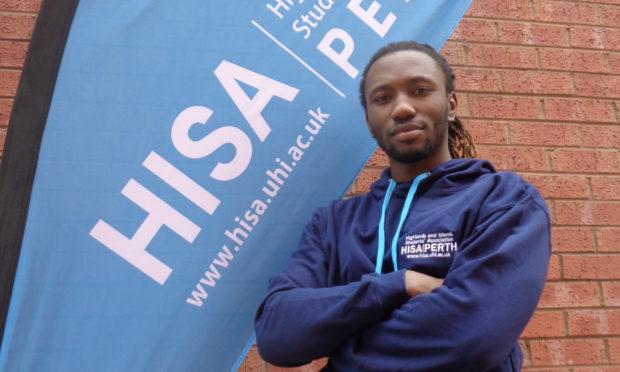 The head of Perth College's student body has hit back at calls by politicians to create a university in the Fair City, saying it "devalues" the efforts of local graduates.
Prince Honeysett, president of HISA Perth, is urging the Scottish Government to invest more in the city's existing services and "improve the student experience".
Council leader Murray Lyle recently claimed Perth would benefit from a university in the city.
He said such a move would "solve our problems" and create extra footfall for the city centre.
Mr Lyle, head of the authority's Conservative-led administration, was backed by SNP MP Pete Wishart, who said: "We can see the benefits that having a university has to a city like Stirling and I am committed to seeing those plans become a reality."
The comments have not gone down well with some students, who have pointed out Perth College is already part of the University of Highlands and Islands.
President of HISA Perth, Prince Honeysett said: "Priority should be focused on the university already here in Perth.
"To imply that a university is 'missing' here devalues the efforts of many people from Perth, who have graduated from Perth College UHI."
He added: "We are proud to represent students at a unique institution in Scotland where you can enter studying an access course and leave with a PhD."
Mr Honeysett said: "If the SNP want to improve the university experience in the city, they should first concentrate on ending the lecturers' strikes.
"The disruption caused to students is ultimately the responsibility of the Scottish Government who fund further and higher education.
"In addition to this, Perth College UHI has seen real term cuts by the Scottish Government since 2014. The best thing for the city of Perth is for the SNP to invest in what is already here and improve the student experience."
Further Education Minister Richard Lochhead responded: "We have invested over £810 million in real terms since 2017 and exceeded our target of at least 116,000 full-time equivalent college places every year since 2011.
"Set against £2 billion real terms cut to our resource block grant over the last decade by the UK Government, we continue to support our colleges by investing over £600 million next year to deliver successful outcomes for all."
He added that he had met with both sides of the lecturers' dispute and asked that they "redouble their efforts".