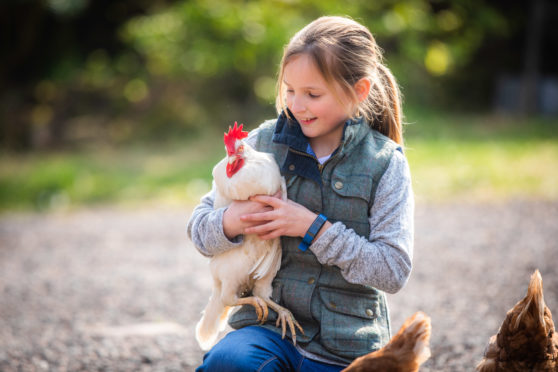 A Perthshire schoolgirl has tracked down an escapee city chicken and given it a new home.
10-year-old Emily Kirk was part of a search party put together by the Perth branch of the British Hen Welfare Trust after sightings of the bird near Tesco on the city's busy Crieff Road.
The bird inspired both humour and concern on social media when onlookers spotted her crossing the road outside the supermarket.
The reports motivated a group of volunteers to assemble in a nearby car park in a bid to track down the elusive hen.
Emily, who helps out at the city's hen welfare trust and who wants to be a vet, spotted the leghorn sitting on six eggs in nearby bushes.
She said: "She was scared and wouldn't come near us. I thought that she needed a new home and some friends."
"I saw her sitting on her eggs, but she crossed the road and was hit by a car and that's how we caught her."
Emily said the dramatic rescue inspired the hen's new name – Crash Bandicoot after the video game character.
'Crash' has now moved to her new home on a farm near Muthill, joining nine hens and a cockerel, where step dad Russell and mum Leanne Wallace run the Madderty micro craft spirits business.
Mary Moore, co-ordinator of the Perth branch of the British Hen Welfare Trust, organised the search party.
"I'm glad we got her as I'm not sure how much longer she would have survived. We didn't get hold of her right away and she went into the side of the car and was dealt a glancing blow.
"The driver didn't stop – he likely wasn't aware – but the one behind did and luckily the chicken was only stunned. We brought her back and within a few hours she was fine."
Mary handed the hen over to her new owners after checking the bird's condition.
She said the leghorn breed is used widely in the poultry industry due to its ability to lay many eggs.
It is likely Emily's rescue saved the bird from an unpleasant end, she added.
"We don't know how she escaped, but we can make a good guess. There are no farms nearby and, despite all the media attention, nobody had reported her missing.
"It is likely she escaped from a transporter, quite possible on the way to the slaughterhouse.
"That would be great – she decided she would be free and now she is."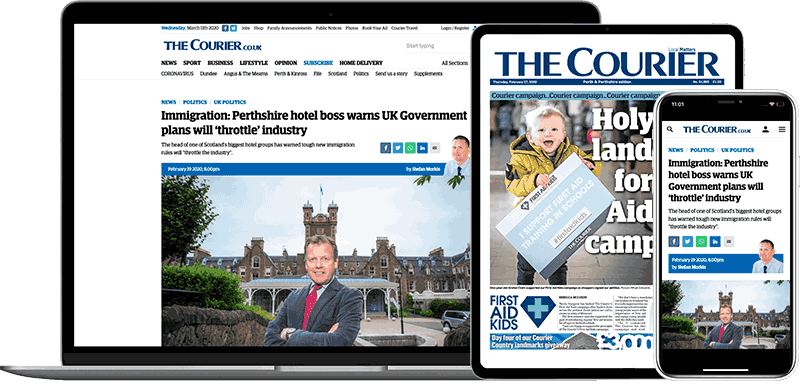 Help support quality local journalism … become a digital subscriber to The Courier
For as little as £5.99 a month you can access all of our content, including Premium articles.
Subscribe