 Madam, – We refer to your article where Pete Wishart MP, was calling for a university for Perth (Politician backs university calls, Courier, April 8).
It was followed up with comment from Prince Honeysett, the HISA president at Perth College UHI.
The city of Perth already has a university: Perth College UHI is part of the University of the Highlands and Islands.
Both the city and its students benefit greatly from this, with a locally-based campus, supported by a regional university partnership with national and international reach.
Perth College UHI is the largest of 13 partner colleges and research institutions which form the University of the Highlands and Islands.
Perth College UHI attracts students from all over the UK, Europe and internationally as part of the university.
It is a successful and thriving tertiary institution providing a wide range of further education and higher education learning opportunities: from access courses to opportunities for study at postgraduate level, encompassing vocational and professional training and skills development opportunities.
There is no other single institution like this in Scotland, where a student can complete an access course and leave with a PhD.
In the last five years, the number of university-level students studying at Perth College UHI has grown by more than 10%, with 2,825 enrolled this academic year.
Since 2013, 8,393 Perth College UHI students have graduated from UHI with Higher National awards, degrees and postgraduate degrees.
In the last five years, the number of further education level students studying at Perth College UHI has remained static.
For those who study a recognised qualification, more than 70% of those successfully achieve and more than 80% enter into a positive destination. We continue to outperform the sector.
The university partnership is already acting as a force for economic, social and cultural change across our region by connecting and collaborating with businesses, public and third sector partners and communities.
Perth College UHI is an active partner in community planning, contributing to reduced inequality, improved services, enhanced training and skills development and the promotion of sustainable economic growth.
We value the good relationships and cross-party support we receive from all politicians, who, like us, serve the unique region of the Highlands and Islands.
I hope we can continue to rely on their support as we progress to being the university our region and the city of Perth deserves.
Dr Margaret Cook,
Principal,
Perth College UHI
AND
Professor Clive Mulholland,
Principal and Vice-Chancellor,
University of the Highlands and Islands.
Government in denial on trains
Madam, – Regards the case to improve the connectivity of Scotland's rail network by instating the Glasgow Crossrail linking lines.
It is merely one glaring example of unbalanced transport policy.
Since Transport Scotland was created in 2006, not a single mile of new or reinstated railway has been approved.
Meanwhile, huge investment in roads continues apace despite both Scottish Government claims of progressive climate policy and evidence that building more roads encourages more traffic, congestion and pollution.
Scotland now lags behind England and Wales in terms of new line developments: the £18 billion investment in London Crossrail is testament to this.
The Levenmouth sub-region has bitter experience of this regressive policy suffering from the continuing failure to approve the reopening of a mere five-and-a-half miles of mothballed line.
Trains are a key part of a more sustainable and progressive transport policy for Scotland but government and its agencies appear to be in deep denial.
James Robertson,
Casan,
Leven,
Fife.
Stronger voice for Scotland
Madam, – It is odd that William Ballantine seems to equate an independent Scotland in the EU with Scotland in the UK (Contradiction of independence, Courier, April 15.)
The EU is made up of member states that are UN recognised independent countries.
Whereas Scotland currently in political terms is considered a region. It is, therefore, almost politically non-existent at world and European level.
With independence Scotland would have more and higher levels of contact with the world.
Independence in the EU would result in a doubling of the number of our Members of the European Parliament.
This is because MEPs from smaller countries represent less people than MEPs from larger countries.
In this way, members from smaller countries have a relatively stronger presence in the European Parliament.
In the Council of the EU, European Commission, and European Council, each member state only has one representative.
Eventually an independent Scotland in the EU would have its turn at the Presidency of the Council of the EU.
Thomas Murray,
127 Cairns Crescent,
Perth.
Lorded over by a minority
Madam, – Scotland never voted to remain in the EEC, and it is a gross example of misinformation for anyone to claim otherwise.
The simple reason being, Scotland was asked to vote as part of the United Kingdom, which the population of Scotland confirmed by democratic vote.
The turnout for the Brexit vote was only about one third of the electorate ,probably due to fact that Scotland only represents less than one tenth of the United Kingdom and some thought such a minority would make little difference.
The question now should be, why the minority government of the minority should be able to use misinformation and propaganda to deny democracy for the whole of the United Kingdom.
This can only be a long way less than honourable and undemocratic.
Might the answer be that Scots have given up fighting and accepted the fact that we are governed by a minority – whether elected or appointed – who represent minorities, whoever they are so long as the are vocal and militant.
Alan Bell.
Roods,
Kirriemuir.
Genesis of the human race
Madam, – My eye was drawn to the headline "New species of extinct human discovered" (Courier, April 11).
I was interested to find that an unknown species of human – hominin – lived at the time of our ancient ancestors.
Hominins are members of the human family to which we homo sapiens are descended. Fifty thousand years ago several species of hominins co-existed.
I wonder where this information places the Biblical account of Adam and Eve, which tells of the first of our kind.
So my question arises, when was the Book of Genesis written?
We know that the story of Jesus was written 2,000 years ago but what of the Old Testament and of the garden of Eden and the first humans?
When man is discovering more about us and our early ancestors, it is only natural to wonder.
Thomas Brown,
18 Garry Place,
Bankfoot.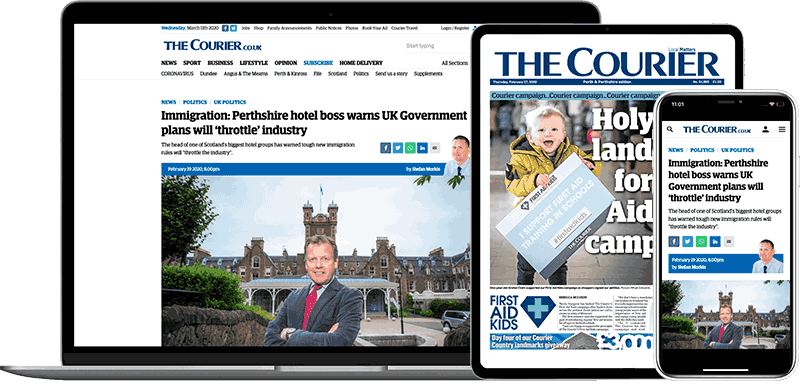 Help support quality local journalism … become a digital subscriber to The Courier
For as little as £5.99 a month you can access all of our content, including Premium articles.
Subscribe